The "Convert video to music" is a great MP4 to MP3 converter for PC that ZEUS MUSIC offers. It allows conversion of videos from different streaming sites like YouTube, Nico Nico Douga, etc. to a wide selection of music file formats such as MP3 / MP2 / WMA / FLAC / WAV and saves it on the hard disk.
Here, we will show you how to convert video and music files on your hard disk to MP3.
You can try the free trial version by clicking the button below.
Step 1: Launch "Convert Video to Music" tool
Launch ZEUS and click the Tools tab and select to open the Convert Video to Music tool.
The following screen will start. Click "Convert Local Video File". tab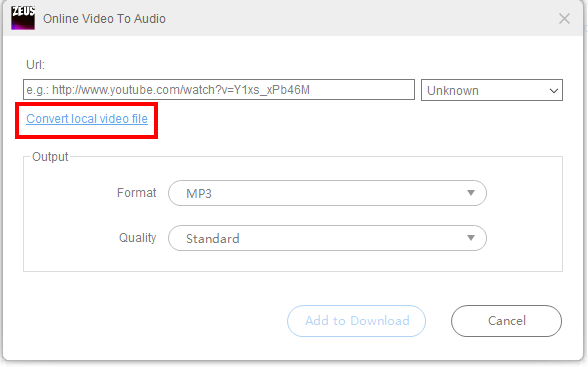 Step 2: Convert videos such as MP4 to MP3
(1) Click the "Add" button to add the video or music file that you want to convert. You can add video files such as mp4, mov, ts and music files such as flac, mp3, wav. Once the file is added, it will appear in the file list.
(2) Since the default output format is MP3, you can select the checkbox in the upper left, select all files, then click "Start" to convert the added videos and music to MP3.
You can also click MP3 to select music formats such as MP2, FLAC, WAV.
(3) When the conversion is completed, the following screen will be displayed. Click "Yes" to open the destination of the converted and saved audio file.