Capture PC screen using customized area designations
Built with 9 customized area for your selections such as: polygon, freehand, fullscreen, window, etc. Capture your screen according to the area you need.
Saves whole page as a single image
Captures image as you scroll through and saves as a single image.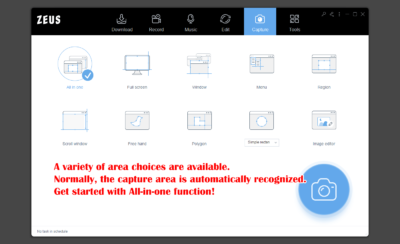 Capture menus and mouse cursors
Capable of caprturing pop-up menus and mouse cursors which are normally excluded.
Capture transparent background images
Use "Freehand" option to capture image with transparent background and save as PNG.
Screenshot scheduled task
Create a screenshot scheduled task in advance to automatically captures screen at a fixed time.
Operation System requirements
OS: Windows 11 / 10 / 8.1 / 8 / 7 (32 / 64bit)
CPU: 1GHz or higher
Memory: 1GB or more (4GB or more recommended)
Hard disk space: 15GB or more is recommended
Graphics: NVIDIA GeForce 9 Series / AMD (ATI) HD 4000 / Intel HD Graphics 2500 or later recommended
Network: Internet connection required
Others: net. Framework 4.0 or later required (automatic installation if insufficient), DirectX 9.0c or later required
Screen Capture
Output Image: BMP, GIF, JPG, PDF, PNG, TIFF
Image Editor
Input Image: BMP, JPG, JPEG, PNG, GIF, TIF, TIFF
Output Image: BMG, JPG, PNG, GIF, TIFF, PDF
Screen Capture Functions & Price
| Functions | ZEUS CAPTURE |
| --- | --- |
| Capture LITE (Full Screen / Window / Range Specification) |  ✔ |
| Capture  (Freehand, Transparent PNG, Preset Shapes, Annotate, Schedule screenshot, etc.) |  ✔ |
| Image Editor |  ✔ |
| Lifetime License Price |  $29.95 |