Product Review of ZEUS BUNDLE by Komal
ZEUS BUNDLE is an all-in-one product, which acts as a video downloader, screen recorder, music downloader, video converter/editor, and screen capturer. With it, you can record any PC screen activities and stream audio; search and download online videos and music; convert and edit video/audio as per your need.
ZEUS BUNDLE
ZEUS BUNDLE is an all-in-one product, which acts as a video downloader, screen recorder, music downloader, video converter/editor, and screen capturer. With it, you can record any PC screen activities and stream audio; search and download online videos and music; convert and edit video/audio as per your need.
1. ZEUS DOWNLOAD – Search, discover, and download videos
Powerful detect function!
A unique video-specific engine finds the wanted and related videos from about 1,300 sites. Meanwhile, the built-in browser helps you search for videos as usual from various websites like YouTube, Dailymotion, Ted, Vimeo, Vevo, etc. What's more, the external browser-monitoring feature can detect video that is being played and download it automatically. When using the built-in browser to search for videos, the Download button will show up as you play the video. Just click on it and get it!
Paste URLs to download videos!
Copy the link of the video you are watching, and click the "Paste URL" button to download and save it. You can download all videos from a YouTube playlist at once by copy-and-paste the playlist URL.
Add to iTunes freely!
You can add downloaded videos or audio to your iTunes on the computer in one click.
Easy download with management function!
Supports simultaneous download of multiple videos. Centralized management of download tasks no matter which search you use. You can add a large number of tasks to the download control panel, and download what you need whenever you want.
2. ZEUS RECORD – Video recording anything on the PC screen
Recording anything and specify the range freely!
You are able to record and save anything that can be played on a PC. Screen and audio from system voice, microphone input or both can be easily recorded at the same time, such as being played the video, web video, streaming live broadcast, presentation, live game, LINE/SKYPE, externally connected webcam and microphone, etc.
The recording area is also freely selected (full screen/window/necessary enclosing). In the example above, when the mouse is located on the media player, the media playback area is automatically selected by the support of "area customization".
Even supports full high definition 4K Resolution!
Supports high definition. There is no sound shift or drop out even in a long recording.
As we just test, full-screen size becomes the highest image quality.
Ideal tool for making presentations and live-action videos!
Equipped with an editing feature. Ideal for recording video conferences, making presentations, and creating live videos. Other functions like a display mouse cursor, add comments, highlight, subtitle, etc. are available too.
Set the recording duration, as you want!
After starting a recording process, you can set the duration from the toolbar (total length of time to end recording).
Supports schedule recording!
Set the timer for recording tasks. A repeat setting is also possible. You can create multiple timer tasks at a time.
Web camera recording is possible!
Record the video of the web camera connected to the PC. It also corresponds to schedule recording, which can be used for presentation confirmation, and monitoring.
3. ZEUS MUSIC – Music search, record, and download
Powerful music search function!
Search your desired songs from high-quality libraries around the world without annoying ads and information. Just input the music title or singer, then you can find and listen to your wanted songs. Simply add the songs to the download list to save them locally. The chart below shows how powerful the ZEUS MUSIC search engine is! Faster and more results!
Get audio by downloading or recording!
Even if you cannot download it, you are able to record it. For example, you can record live streaming audio from radio stations all over the world with ease. The program supports recording any sound from the system, microphone, and external input. Just stream the audio you like and record it, such as news, speeches lectures, talk shows, and so on. Other than that, LINE, Skype and Facebook calls can be also recorded.
Equipped with audio waveform editing!
Cut, delete, copy, paste, merge, mix and even add other sound files to audio is also possible by using the built-in audio editor. You can make your own style of ringtone without any hassle or create your own music.
Automatically acquire the ID3 tag and edit music information!
Once the music is recorded, music information including title, artist, album, year, genre, and cover will be acquired automatically. This is very useful for music maniacs and collectors. It helps identify song files in bulk for saving time on editing them one by one. You can also edit the tags manually if you want.
Audio conversion to compatible formats!
One-click away to convert audio files between various formats like MP3, MP2, M4A, WMA, AAC, AC3, FLAC, and WAV, so you can listen to the recorded audio or downloaded music on your portable device. The program empowers you to merge several audio files into one file too. In addition, it allows you to convert both local videos and web videos into audio files.
Extract from a music CD or create a music CD!
You are able to extract single or more songs from a CD or burn your favorite music to a blank CD and share it with others. It is convenient to move your loved music to your house or car.
4. ZEUS EDIT – Video editing, conversion, and slideshow creator
Multi-functional video editing!
Equipped with many editing features, it is easy to combine video clips, cut/delete parts, apply an effect, edit subtitle, add watermark, etc. You can also screen capture the scene you want.
Designate necessary or unnecessary parts, and easily delete and split CM.

Combine video files and save them as one video.

Crops and zooms in on videos and supports ration changes such as 4:3 to 16:9.

Also, correct the direction of the vertical video that was shot horizontally with a smartphone. To correct the image quality of the unsatisfactory video, such as slightly dark, missing videos with brightness/hue/contrast.
Adjust the playback speed. It can be set from a slow playback of 1/2 speed to double speed.
Correct the gap between animation and sound. Synchronized correction of recorded video and downloaded video with a gap. Adjust the volume too.
Convert any video/audio format!
Many conversion formats are available for each application, just select and convert to the desired format. It also supports customization; you can adjust frame rate, resolution, bitrate, etc. before converting. For smartphones, the small size file is also converted into beautiful videos.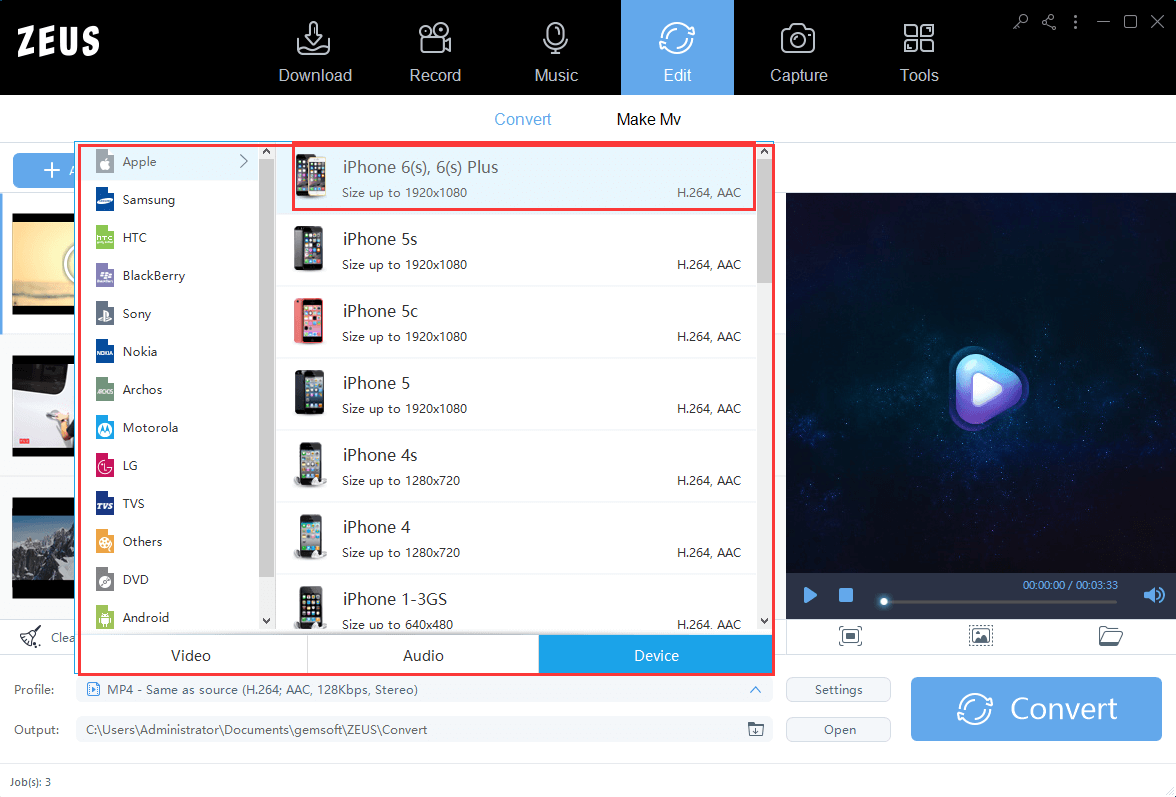 Full-scale slide show maker!
Slideshows are videos created from photo files. Add all source images, and set the effect of image switching (30 kinds of transitions). You can also add background music to the slideshow.
4. ZEUS CAPTURE – Screen capture and image editing
Capture anything on the PC screen!
It provides nine types of capture modes that you can shoot your screen with, from all in one to full screen, window, menu, region, scroll window, freehand, and polygon. Scraping newspapers, clipping photos, displaying a mouse cursor, shooting pop-up menus is as easy as a breeze.
Support schedule capture!
Set the timer and take a specified range screenshot automatically on time. You can customize the start time, interval, stop time, region and output directory in the task scheduler.
Instant edit on the taken image!
The equipped editing sidebar and advanced image editor enable you to edit your screenshot instantly. You can do simple edits like adding texts, arrows, circles, highlights, etc., or advanced edits, such as cropping, resizing, rotating, applying effects, and more. It is very convenient for creating presentation materials, online manuals, etc.
Share images with others!
You can upload the captured screenshots to social platforms like Facebook, Twitter, Google+ or Pinterest or send to others using email.