Vocaloid Songs Download from YouTube (2022)

Vocaloid software is slowly gaining more attention worldwide. With different famous Vocaloid idols such as Hatsune Miku and others, many people start to get curious. Vocaloid is a voice synthesizer software product that produces "singing" voices by typing the script or words. Aside from creating a song or soundtrack, a Vocaloid can also be used for speech. Because of its advanced technology, a Vocaloid software can change the pronunciation, add more effects such as vibrato or even change the dynamics and tone of the voice.
Many anime fans or otaku correlate Vocaloids to anime. Such as the most well-known vocaloid, Hatsune Mix. With the growing industry of Vocaloids, many new Vocaloids started getting recognition such as Kenshi Yonezu and Ayase – YOASOBI.
Because of this, many fans are starting to search for Vocaloid song download; such as Vocaloid Miku songs download. Vocaloid producer Ayase is also a trending topic and other famous Vocaloid couples -Len and Rin.
Download ZEUS DOWNLOAD now by clicking the button below and enjoy the beat!
Vocaloid Songs Download – How to download videos from YouTube?
Although there are many ways to download videos from YouTube, some decrease the quality of the video. Some free software or online video downloaders have limitations. They can only download a few MB file videos.
By using ZEUS DOWNLOAD, users can have unlimited downloading potential. Either from YouTube or any different sites – downloading is as easy as a few clicks.
Method 1: Download Single Video
Step 1: Copy Video URL
Using your browser, go to YouTube and search for your favorite Vocaloid songs. After choosing a video, copy the URL from the top search bar on your browser.
Step 2: Paste URL Format
Next is launch ZEUS DOWNLOAD. On the Download tab, make sure that the download type is set to "Video".
Step 3: Paste URL
After this, click PASTE URL to start the download.

Step 4: Video Downloading
After pasting the URL, the automatic downloading queue will begin.

Step 5: Video Download Complete
After a few minutes, your download is now complete. Click the COMPLETED section and double-click file to autoplay.
Method 2: Playlist Batch Download
Step 1: Copy the playlist's URL
On your favorite Vocaloid Playlist, copy the URL from the top search bar.
Step 2: Paste the copied playlist's URL
Launch ZEUS DOWNLOAD and click the "Paste URL". For downloading Playlist, choose which videos to download or you can click the Select All to download all videos. After this, click Add To Download to proceed.
Step 3: Downloading
You will see all the downloading queues on the Downloading Tab.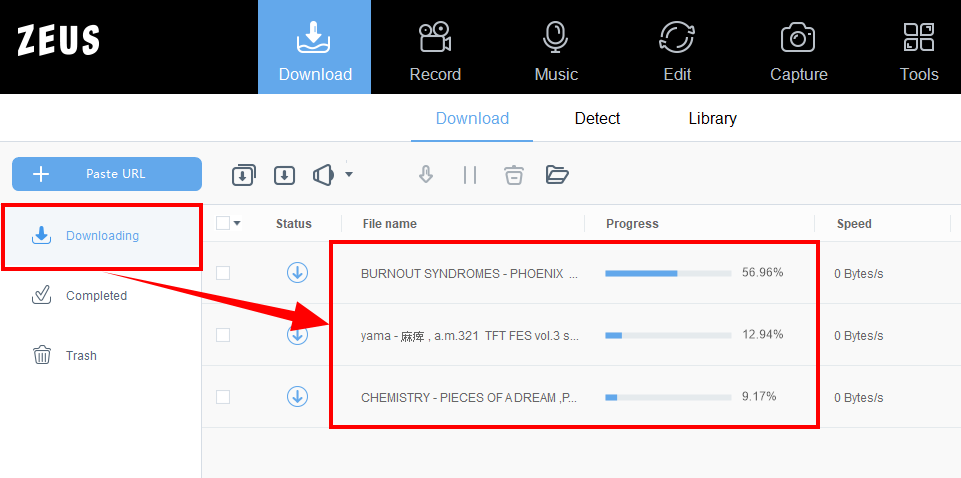 Step 4: Playlist's download completed
When downloading processes are complete, it is automatically transferred under the "Completed" tab.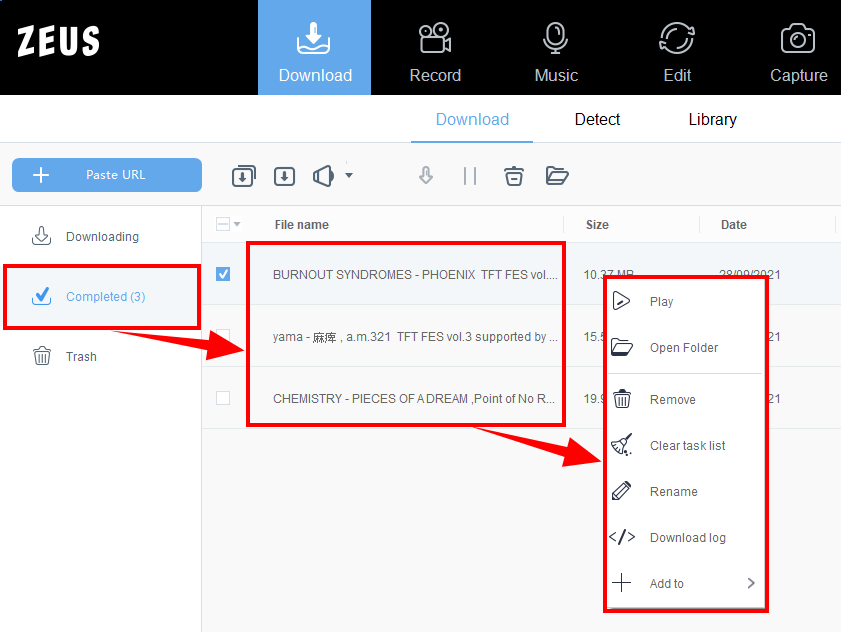 Conclusion
Since many new Vocaloid fans are confused with the program – often misinterpreting them as real anime, Vocaloid is a software program. It imitates a human singing voice by typing the lyrics or words. With such effectivity, most Vocaloids are even considered as a digital idol, often correlating to anime.
Because of this, new Vocaloid fans can now easily do Vocaloid songs download using the ZEUS DOWNLOAD. No more searching for an alternative video downloader – because the software offers premium experience. It offers unlimited and easy downloading features to grab all your favorite Vocaloid songs from YouTube and other music streaming sites.