Simple Steps in Downloading Vocaloid Popular Songs in Youtube (2022)

The term "Vocaloid Producer" was first applied to composers who created Vocaloid-related audiovisual material, such as original music or fan-made PVs. This term is also used for those who create high-quality covers, parodies, and even spin-offs. As of now, Mitchie-M is the most well-known Vocaloid producer with Hatsune Miku as their lead vocalist. Kenshi Yonezu also known as Hachi who releases music using his own voice made him very popular in this industry.
Unlike mainstream pop music, the majority of Vocaloid music is composed by unknown young Japanese musicians. Most producers' true identities have remained hidden and wanted to work during their free time or for a vocational job. They wanted to create music that pleases the listeners. They are the ones who make music more enjoyable and fun to listen to. Better watch and download Vocaloid popular songs on YouTube now!
Don't hesitate to grab this opportunity! Click the button now!
So, if you want to listen to music that is made by a Vocaloid producer, you need a tool to help you download it. ZEUS MUSIC is a tool that has plenty of steps to follow just to get a Vocaloid Popular Song on Youtube. Using this tool, an alternative way of downloading is possible because it has a screen recording to record any videos you want. You can also record music if you want to.
Method 1: Copy and Paste URL
Step 1: Copy URL
Using your PC, open the Youtube site to look for the music you want to download. Once you find it, copy its URL.
Step 2: Paste URL
Launch software and click the "Music" menu. Then, click the 1. "Download" button. At the right top of the software, click the 2. "Online Video to Audio" icon. A new window will display on your screen allowing you to 3. paste your copied URL. At last, click the 4. "Add to Download" button to begin downloading.
Note: You can set the quality and format based on your preferences.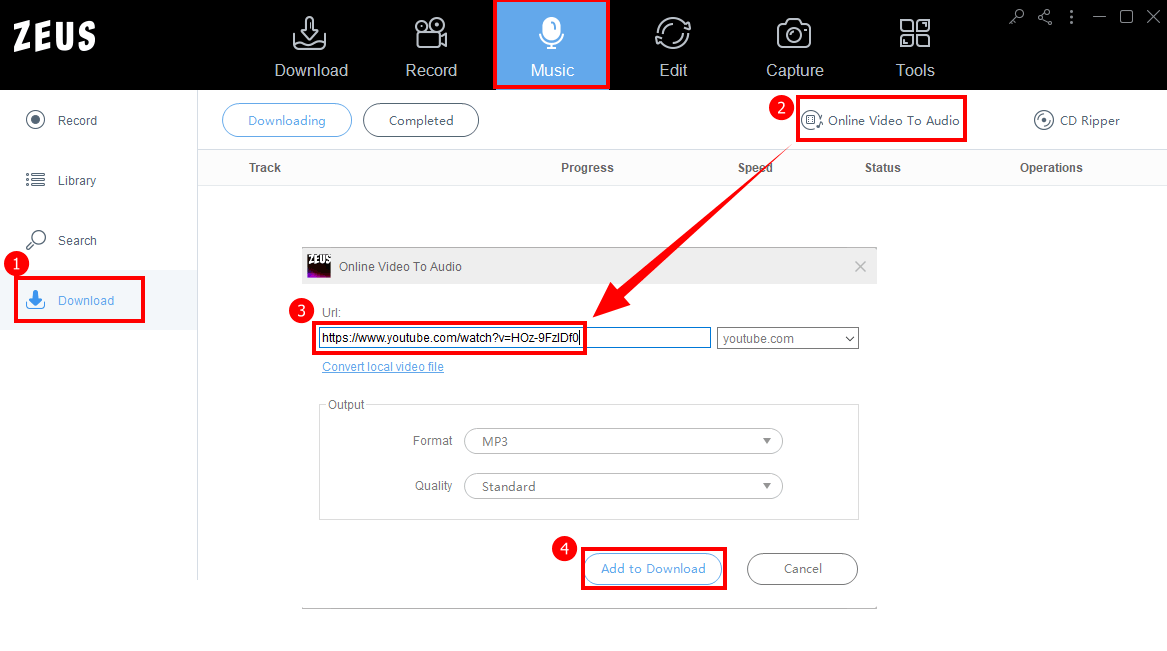 Step 3: Downloading Process
Wait for a while to be completed. To see its progress, click the "Downloading" tab.
Step 4: Music download is Complete
Click the "Completed" section to see your file. You can also right-click the downloaded file to see more options such as Play, Remove, Delete, and so on.
How to Record Vocaloid Producer Song
Step 1: Set Recording format to MP3
Before you start with recording, make sure that the recording format is set to MP3. To do so, click the "Record" tab then click the "Format" icon and select MP3.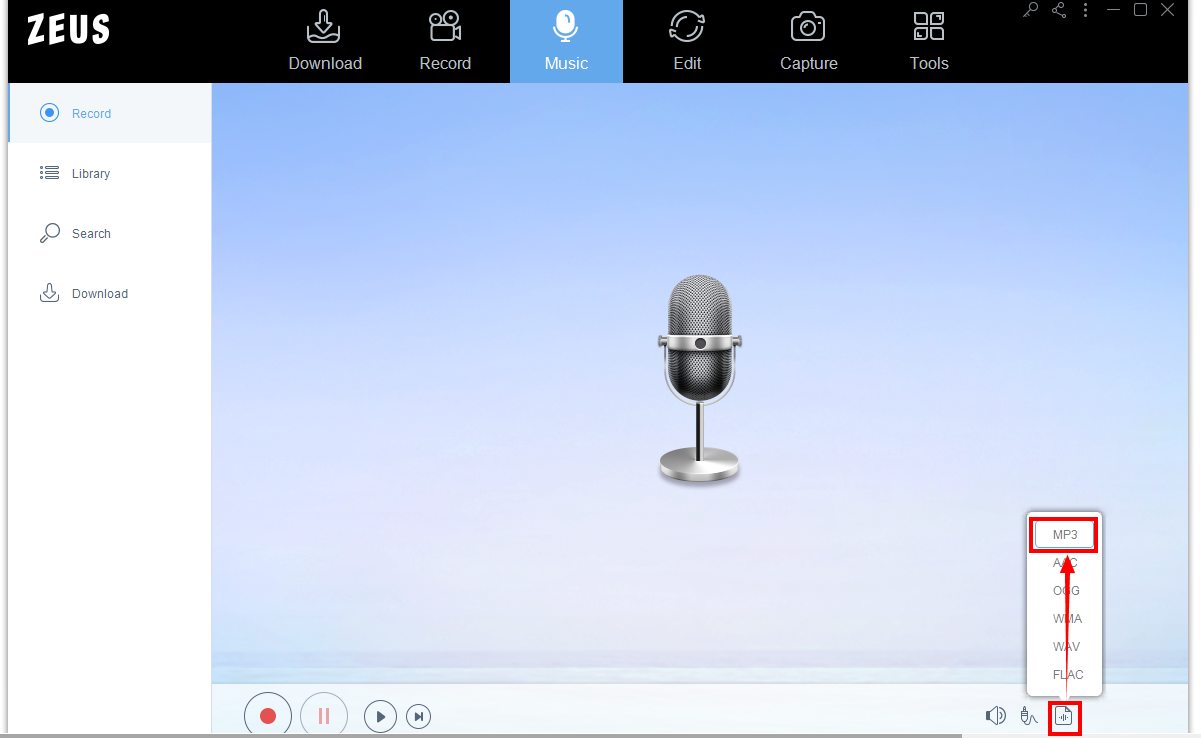 Step 2: Play Music to Begin Recording
To begin the recording, just go to the "Record" tab under the "Music" menu screen and click the "Record" button. You can click Pause or Stop the recording if necessary.
Then open and play your Vocaloid song from YouTube to have it recorded.
Step 3: Music recording completed
You can check all recorded music under the "Library". You may also right-click the recorded file to see more options such as Play, Add to Playlist, etc.
Conclusion
Vocaloid Producer's songs are a great contribution to the music and anime industry. We used to hear the tracks promoting our favorite anime and skillfully sang with great lyrics and melody and a vocaloid effect added to blend in. Listening to their tracks will relax you and give joy in your heart. So, if you want to hear their songs in offline playback, you should use a third-party tool for downloading and recording it.
ZEUS MUSIC is designed and made especially to help you with an easier and faster way of downloading Vocaloid songs from YouTube. It is a tool that will help you get Vocaloid Popular songs on Youtube with much convenience for offline unlimited playback.