How to Apply the Easiest Steps for Vevo Downloader (2022)
Vevo is the world's largest music video provider that will satisfy your needs in terms of music. They also work with up-and-coming musicians, giving them a global platform on which to locate and expand their fan base. They have 450 thousand music videos to watch, 26 Billion views per month, and 1.1 Billion hours viewed per month. This site allows you to choose your preferred apps and devices such as firetv, youtube, and many more.
Some countries don't have access to Vevo download functions due to the country's restrictions. That is why for these restricted countries, you need a powerful third-party Vevo downloader tool to easily do the Vevo video download. By this, it will lessen your worries when it comes to downloading music videos.
Experience and try the free trial version now by clicking the link below!
Through the free trial version, users are limited to downloading one music at a time and can record up to 1 minute. To lift the said limitations, please upgrade to the full version.
ZEUS BUNDLE LITE was made for those people who are struggling to download their songs. This software gives numerous options for downloading, providing the most efficient and hassle-free technique in only a few clicks.
Method 1: Copy and Paste the Vevo Video Downloader for Android URL
Step 1: Copy the URL of Vevo Youtube Downloader Free
Launch to Youtube website and on its search engine, type your favorite music you want to download. Highlight the URL to copy.
Step 2: Paste the Vevo Video Downloader for PC in the Software
Click the "Paste URL" button under the "Download" tab to paste the copied video URL. After that, the video will be processed for download. You may see its progress under the "Downloading" tab.
Step 3: Vevo Music Video is Successfully Downloaded
Under the "Completed" section, you can see all your downloaded files. Also, when you right-click the video file, you may see a list of options allowing you to choose what you're going to do with your file.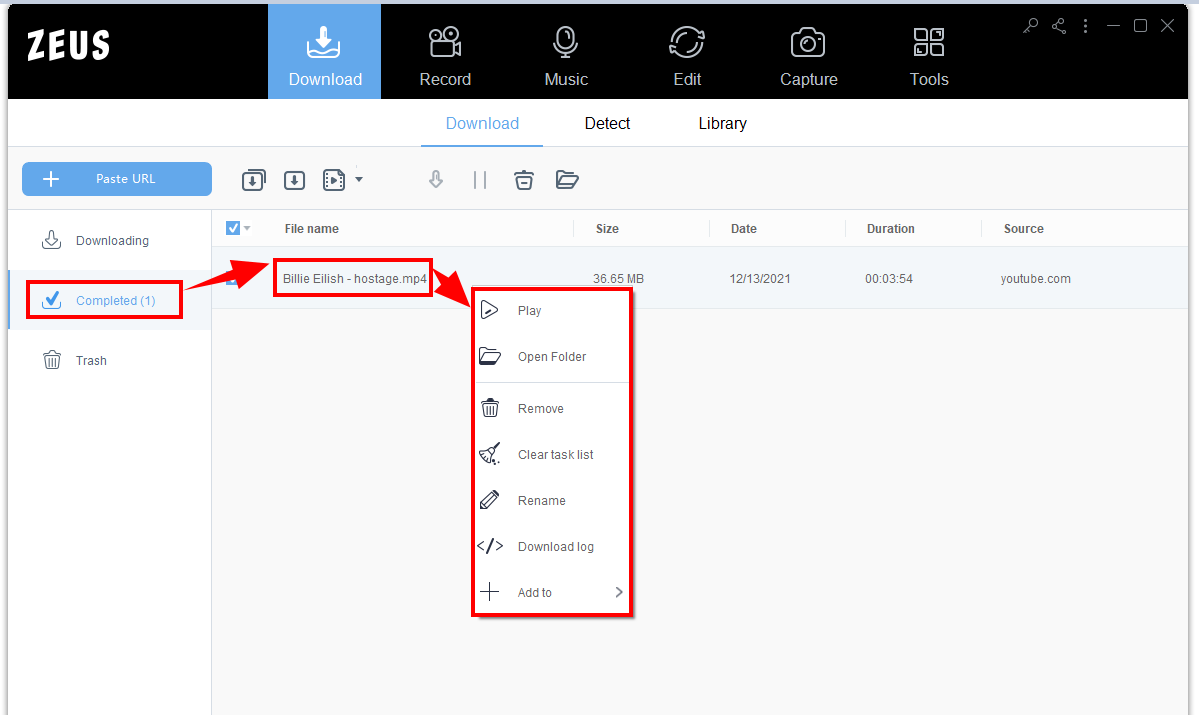 Method 2: Do the Screen Recording for your Vevo Music Downloader
Set 1: Set the Recording Area
To start with the recording, click the "Record" button of the ZEUS BUNDLE LITE then click the Record Dropdown" button to choose the area you want to record. Once you choose it, you will be asked to get ready to record your video and a countdown will commence.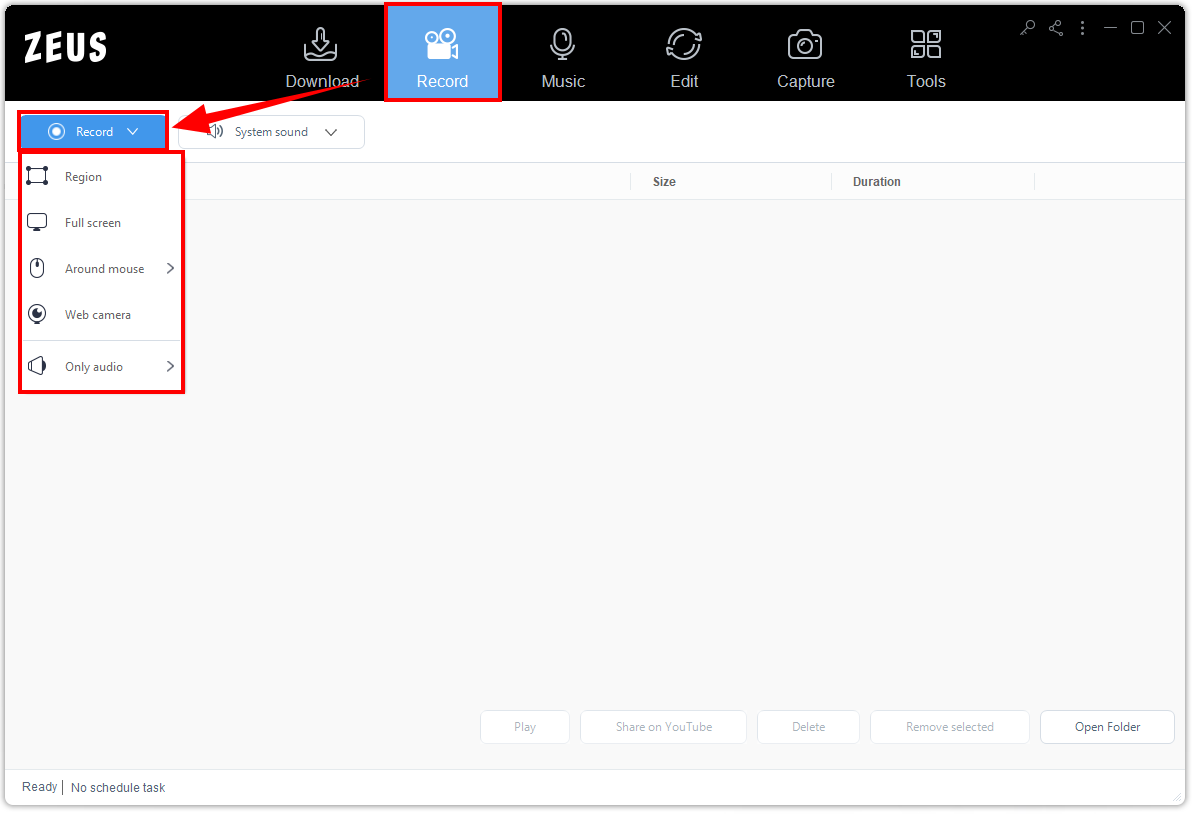 Step 2: Commence to Vevo Music Recording
After the three-second countdown, a tiny box will display on your screen where you can choose to "play or stop" your recording.
Step 3: Watch the Vevo Music Video you Recorded
Your recorded music video file will be saved directly on your recorded list. When you right-click the video file, you will see more options for the file. Click the "Open Folder" tab to check for your file and enjoy watching.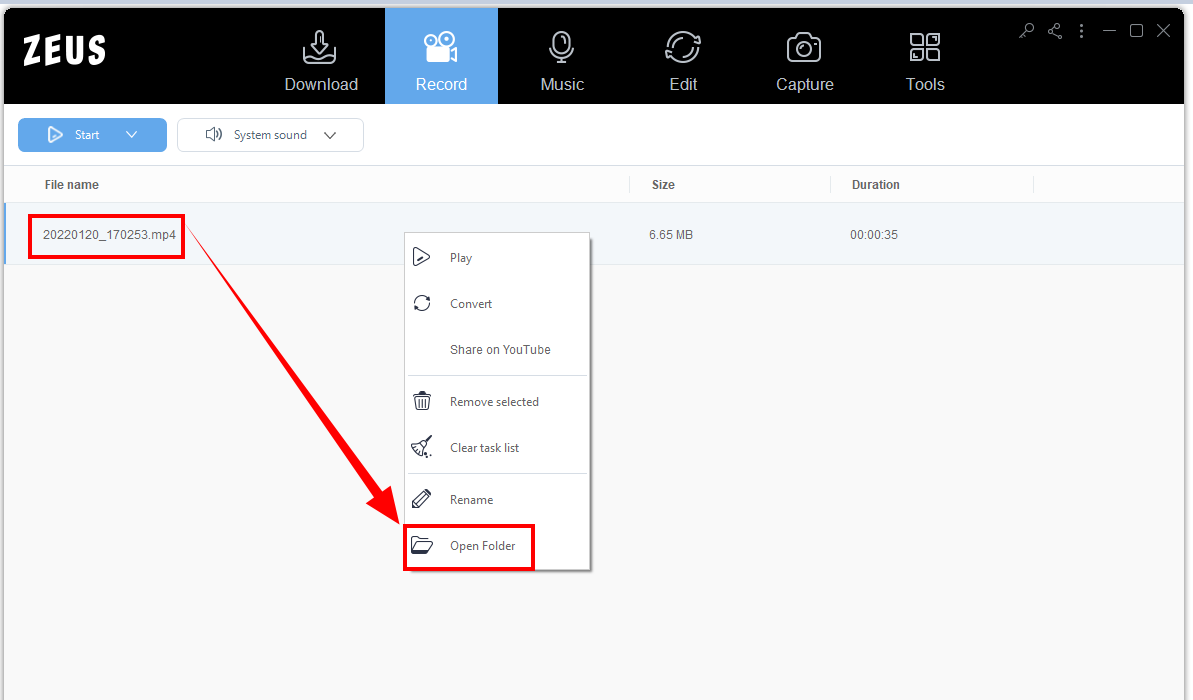 Conclusion
Vevo is the finest option to utilize if you're looking for a free streaming platform with no upgrades or subscription plans. All of the content is available for free and includes a large number of music videos. It is a well-designed and fluid interface that provides the greatest possible streaming experience for customers.
ZEUS BUNDLE LITE is one of the greatest Vevo downloaders available today, with advanced systems like copy and paste URLs and screen recording that make it easy to download music videos. Aside from that, this software can be downloaded from over 1000 anime sites or use its many additional capabilities, such as music download, voice recording, and so on.