Do it Your Own! Best DIY Valentine's Day Cards Videos Download (2022)

It is nothing new for us to plan a surprise for our loved ones on Valentine's Day. This allows us to express our affection for them and how important they are to us. Making Valentine's Card for them is already customary and part of our tradition. In general, surprise presents on Valentine's Day are seen as signs of friendship and everlasting love, with the tradition of presenting special gifts to loved ones dating back many years and continuing to be practiced to demonstrate the love we have for our partners' families and special someone. A gift box not only reflects your love for your partners but also represents the time you've spent together and serves as a reminder to others of a particular experience you've shared.
It's not too late to surprise them; after all, "it's better to be late than never," as the saying goes. If you didn't surprise them on Valentine's Day, now is the opportunity to build your own Valentine's card for them. On YouTube, look for any Valentine's Day card videos to see DIY videos on how to make a valentine's card. Do the batch download immediately using the ZEUS DOWNLOAD software so that you can use it as a guide to make your own cards.
Hurry and download this now!
The free trial version of the tool, downloading, and recording for one minute is possible. An upgraded version is recommended if you want to continue using this tool.
When you have the ZEUS DOWNLOAD application with you, batch downloading is quite easy to do. The tool offers high-quality video downloads will let you do bulk downloads in just a few clicks to save your time. It has an auto-detect feature for easy and fast valentine day cards handmade videos downloads. Copy and Paste URL method is also possible in this tool. The screen recording feature of this software is really impressive and is the best alternative for downloading.
Batch Download
Step 1: Set the Download Type to Video
Simply open the ZEUS DOWNLOAD and select the "Download" button to change the video type. Select the "Video" icon from the "Download Type" drop-down menu. This is to ensure that the downloaded file is in video mode.
Step 2: Look for a Playlist
Open the Youtube site and search for a video playlist of making Valentine's cards. Then click the video and copy its URL.
Step 3: Paste the Copied URL
To paste the copied URL, kindly open the ZEUS DOWNLOAD and click the "Download" button. Then click the "+Paste URL" button.
Then another window will show on your screen allowing you to select your desired videos to be downloaded. You can click the "Select All" button if you wish to download them all. Click the "Add to Download" button once done.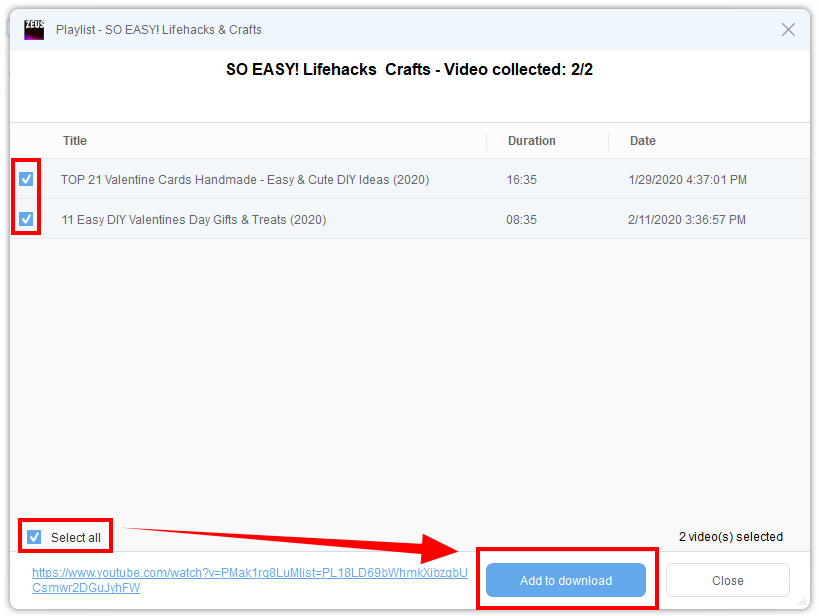 Step 4: Batch Downloading Video
The video will be added instantly to your "Downloading" section.
Step 5: Batch Download Video is Complete
In just a few minutes, you may enjoy your videos. Right-click the video file to see more options like Play, Open Folder, Remove, Clear Task List, Rename, Download Log, and Add to.
Conclusion
You may easily accomplish batch downloading using the simple techniques outlined above. It's so much fun to watch your DIY Valentine's Day card videos, especially when you're getting ideas for your own cards. This video is appropriate for your entire family, friends, and relatives.
Thankfully, a software like ZEUS DOWNLOAD is here to give its hand to help you do batch downloading. Thai tool does not only limit its function in downloading and recording but can do more such as editing and converting videos.