Easiest Alternative to Download Music from Spotify to MP3 (2022)

When talking about the best when it comes to music streaming platforms, Spotify comes quickly to your mind. It is one of the best platforms that allow free access to its huge library containing millions of songs, podcasts, and videos from different artists globally. Free users are using the ad-supported version in which music can be streamed at 160kbps. Not bad for free usage, right?
Spotify is also popular because of its amazing features offered such as creating user profiles, listening history, view lyrics, play queue, and many more. However, some of the important features are only available for Premium users like the option to download music from Spotify to MP3. That is heartbreaking for free users, but there's no need to shed tears anymore since there is a good workaround for this. The best solution for this is to record Spotify music through a handy third-party tool.
Download ZEUS MUSIC now by clicking the button below and enjoy the beat!
This is where ZEUS MUSIC can greatly help you! It is a multifunctional software that offers perfect multimedia solutions. It has an advanced recording tool that is capable of recording music from Spotify and directly converting it to MP3 for multi-devices compatibility.
Steps on How to Record Music from Spotify
Step 1: Go to the "Music" Function Screen
After you launch ZEUS, navigate to the "Music" function screen for more features available.
Step 2: Specify the source of sound
Set the source of sound by clicking the icon as shown below image, and select "System Sound". In this way, you can record the music alone. Other choices are "Microphone", to record only your voice or choose "Both System Sound and Microphone" if preferred.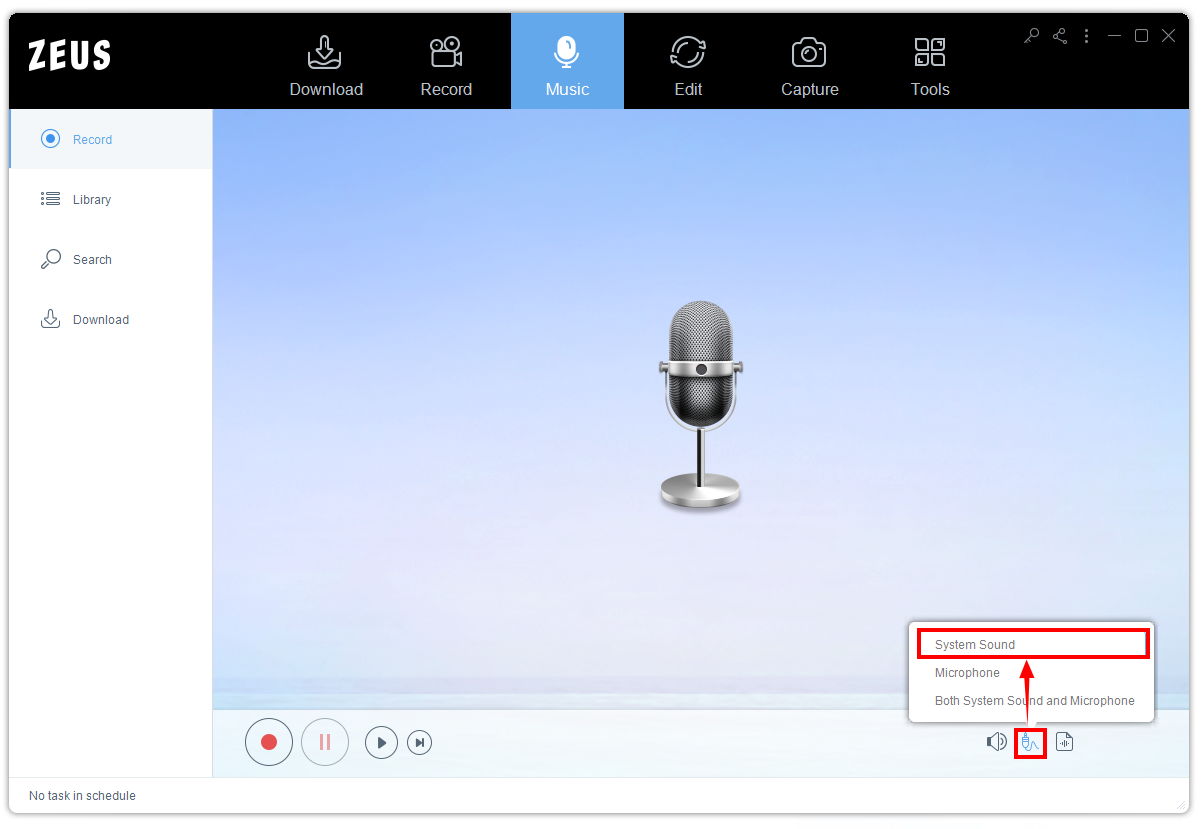 Step 3: Set the Format into "MP3"
Click the "Format" icon and choose "MP3" as needed.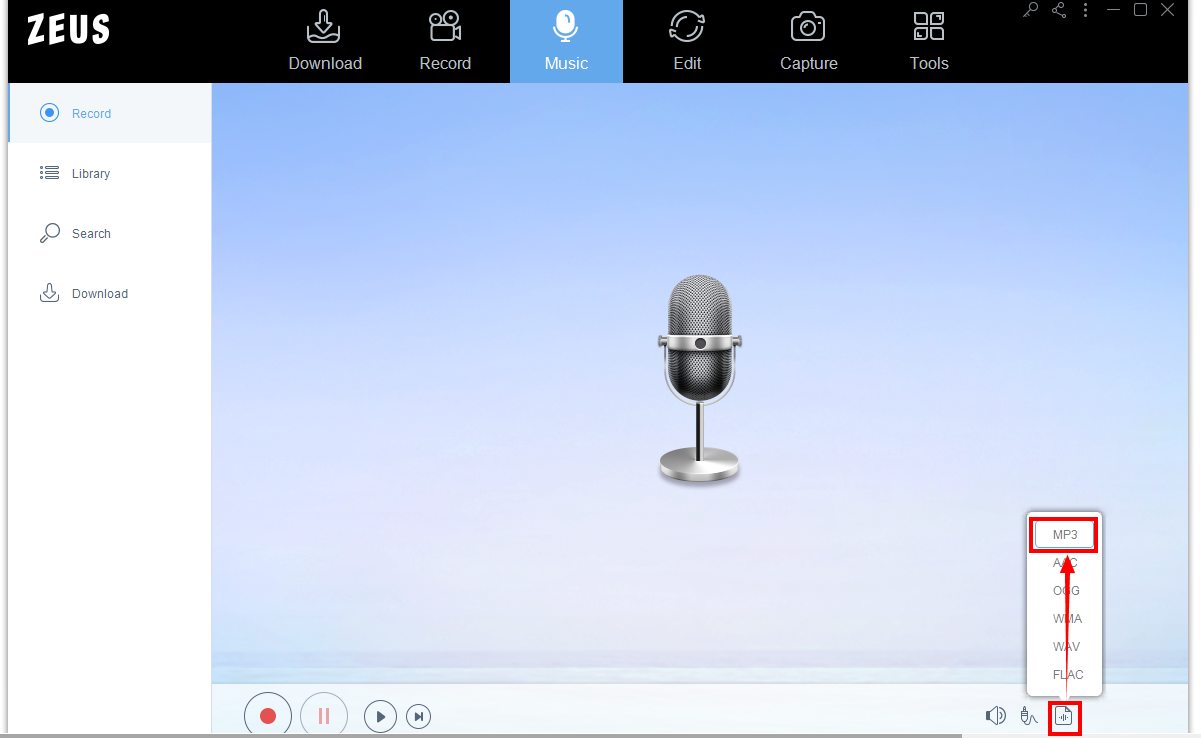 Step 4: Start Recording Spotify music
After everything is set, you can start recording your favorite Spotify music. Click the "record" button under the "MUSIC" menu.
Then, go to Spotify website and click the "Play" button of the Music you wished to record.
While recording, you can pause and adjust the volume of the recording.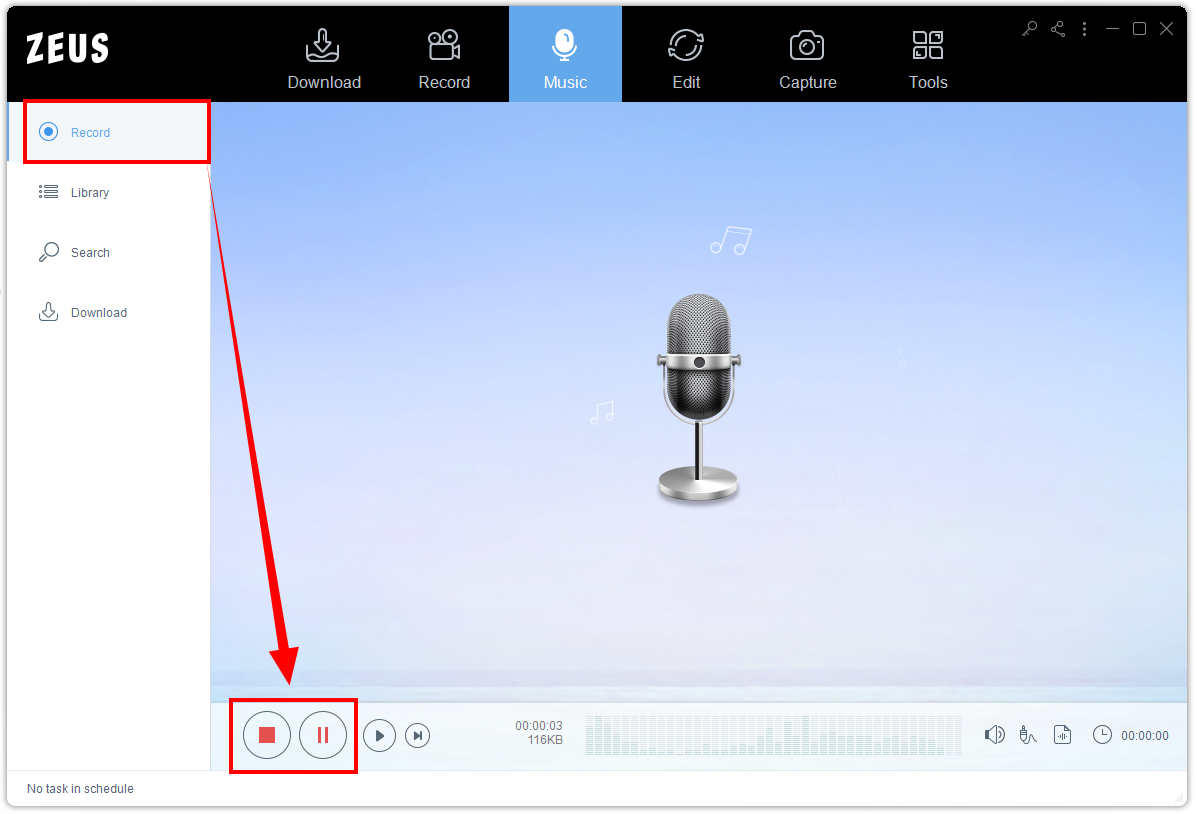 Step 5: Open the recorded Spotify music
Once the recording is done, the recorded file will automatically be added to your recording list. Right-click the file to see more options like Play, Edit, ID3 Identify, Burn to CD, etc.
Conclusion
Spotify is a perfect home for music enthusiasts. There are millions of popular and latest music on a playlist that can be streamed for free. It is also the best platform to find cool music mixes from popular DJs internationally. It is understandable though that streaming offline gives many conveniences especially if there are no internet connections available near your area. Recording music from Spotify is the easiest yet effective alternative to download music from Spotify to MP3.
This will not be possible without the help of ZEUS MUSIC. Through its intuitive interface, navigating through its tool and performing various music recordings becomes as easy as 123. Other than that, users may also enjoy its other added functions such as video downloading from 1000+ websites, screen record, voice record, etc.