Amazing Steps to Download Coldplay x BTS My Universe in MP3 (2022)

BTS and Coldplay are very popular worldwide. Even kids have known and had a crush on them. This collaboration in their songs gains a lot of views on Youtube and on other streaming sites. Both of them already proved themselves in the music industry. Gaining so many awards in different categories.
Their album- My universe gained 37,558,644 views on Youtube that premiered on September 24, 2021. The music was about love being difficult or what we call forbidden love. When you hear this song, you want to replay it all day especially when you internalize the lyrics of the song. You can now easily download Coldplay x BTS My Universe MP3 through ZEUS BUNDLE LITE.
Download and grab your music now using its free trial version!
Saving this on your library will be as easy as 1-2-3 using the use of a powerful tool. ZEUS BUNDLE LITE will never disappoint you when you want to download Coldplay x BTS My Universe MP3. It has a feature that will help you get your music without quality loss and has a recording function where you can sing along while recording. This tool has a lot to offer to satisfy your needs in music. If ever you want to download any songs you can't remember its title, this tool is a big help using its search engine.
Method 1: Copy and Paste URL of Download Function
Step 1: Set Download Type to Audio Format
Before you start downloading your music, make sure you set your preferred download type. You may choose to download the file as "Video" or "Audio". To do it, open the software then click the download type icon under the "Download" menu screen. Then select "Audio" to download file as MP3.
Step 2: Copy the video's URL to download
Launch the Youtube website and search for My Universe by Coldplay and BTS. Then, copy the URL to download.
Step 3: Paste URL to Download
Once you copied the URL of the My Universe song, open the software and click the "Download" button. Click the "+Paste URL" then it will automatically download your video. You can see its progress under the "Downloading" section. Wait for a few minutes to download.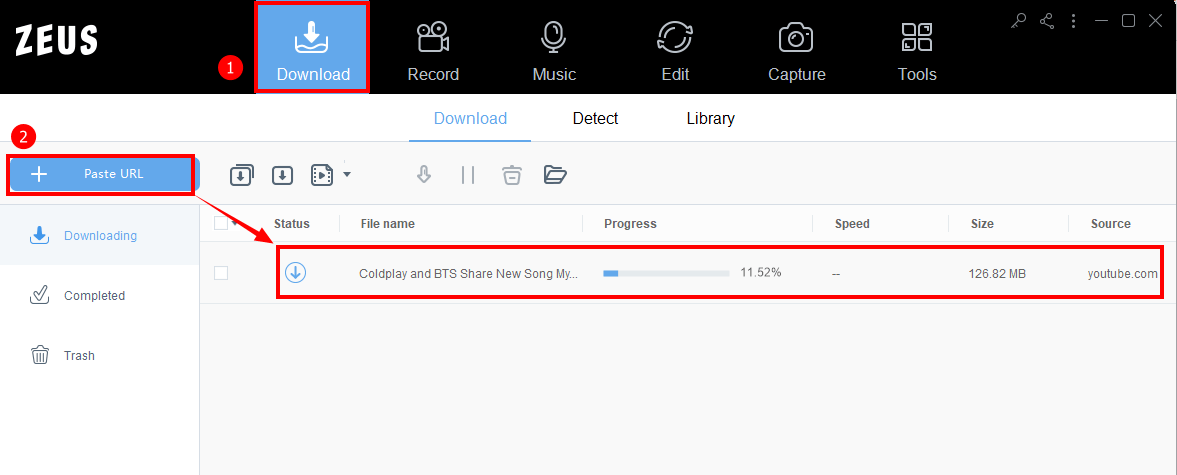 Step 4: Playback the downloaded music
Enjoy and cherish your downloaded song. To play your song, click the "Completed" tab and double-click the file. Right-click if you want to see more options.
Method 2: Use Online Video to Audio Tool
Step 1: Launch Music Dunction Screen
Open the software and click the "Music" icon to see more options for getting your music.
Step 2: Copy URL for Downloading
Jump to the Youtube website and copy the URL of My Universe music to be downloaded.
Step 3: Paste URL for Downloading to MP3
Click the "Download" tab then click the "Online Video to Audio" button. Once you click it, a new window will display on your screen. Paste the copied URL inside the box.
Step 4: Music Downloading
Click the "Download" tab to see your downloaded file. You may notice that the file you recorded has its information. That is because the software has an ID3 tag to extract the information of the music including the artists, and its title.

Step 5: Enjoy the Download Coldplay x BTS My Universe Playlist
You may now listen to your downloaded music. Click the "Completed" tab to see your downloads. Right-click the file to see more options such as Play, Remove, Delete, Add to Playlist, and many more. You can also see the location of your folder by selecting the "Open Folder" icon.
Conclusion
The fans of BTS and Coldplay still cannot believe their collaboration. Now that the track is out, the social media and the streaming sites are in chaos in streaming the My Universe soundtrack. Indeed, we can say that they are so famous and loved by many. Though the song is sung in both English and Korean you can feel what the song wants to convey to its listeners.
Tuning in to My Universe will help you release from boredom and want you to play it again and again. So to do it, you will need a tool to help you with this. ZEUS BUNDLE LITE is the one that helps you get any music you want. You can easily download Coldplay x BTS My Universe mp3 even recording the song. The software is not only limited to recording and downloading songs but can also do CD Ripper, editing the MP4 and MP3 file, Screenshots, and a lot more!