Deezer to MP3 Conversion: Easiest Way to Record Deezer Music (2022)
When it comes to Music references, most users prefer a streaming site that contains an updated music list with the highest audio quality. You can now stop looking around because Deezer has it all for you. It is a full package music streaming site that provides the latest high-fidelity sound in the music industry! Downloading music from Deezer is easy, especially for paid subscribers. However, all downloaded content is only accessible within the Deezer platform only.
If you're looking to have the downloaded music on your local file, the best solution is to convert Deezer to MP3 with ZEUS MUSIC. In this way, you will have the access to play Deezer anywhere. There are a lot of software and converting tools out there, but only a few can be trusted and work effectively.
Download ZEUS now by clicking the button below and enjoy the beat!
Luckily, ZEUS MUSIC is here to help you convert Deezer to MP3 through its record function. Since MP3 is compatible with most devices, it greatly helps for easy streaming and sharing. Aside from the MP3 format, this software also allows users to select other music file formats such as WMA, FLAC, WAV, etc. Additionally, voice overlay recording is possible through this software.
Steps on How to Record Deezer to MP3
Step 1: Go to the "Music" tab
After you launch ZEUS, navigate to the "Music" tab to see all the features available.
Step 2: Specify the source of sound
Set the source of sound by clicking the icon as shown below image, and select "System Sound". In this way, you can record the music alone. Other choices are "Microphone", to record only your voice, or choose "Both System Sound and Microphone" if preferred.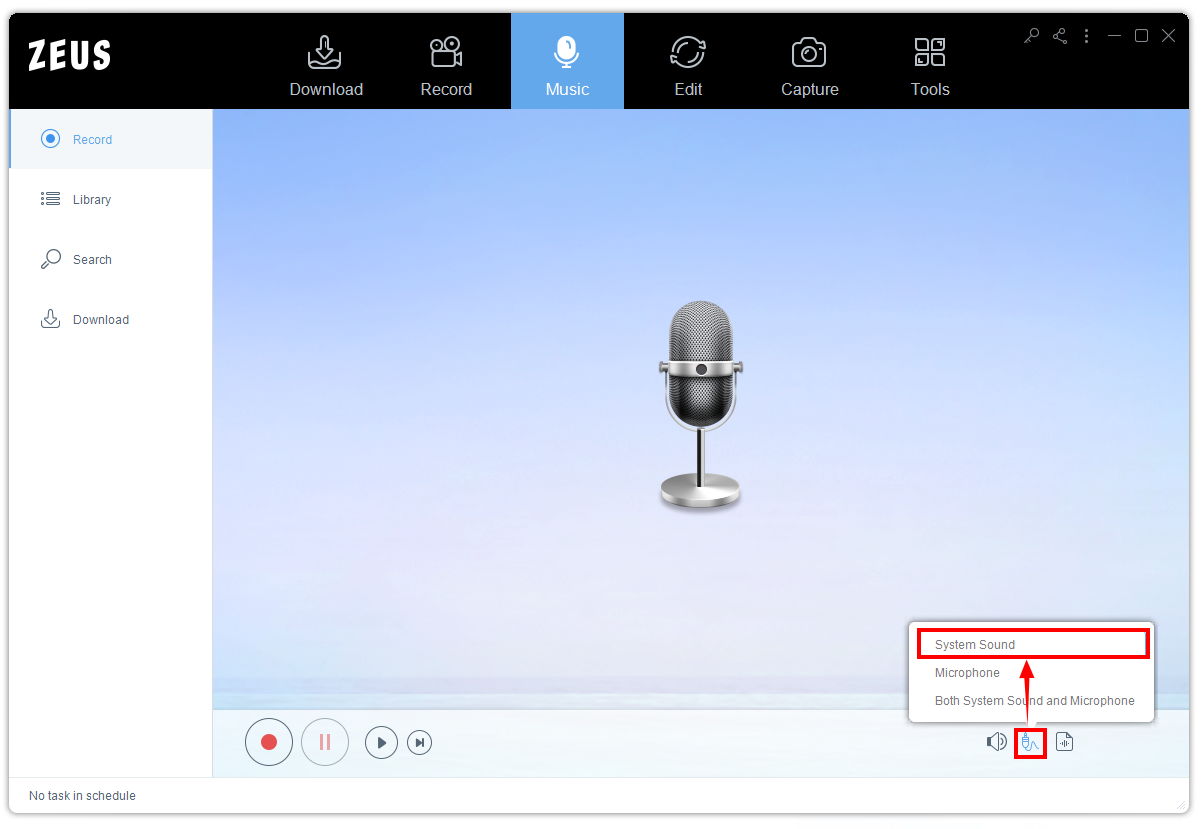 Step 3: Set the Format into "MP3"
Click the "Format" icon and choose "MP3".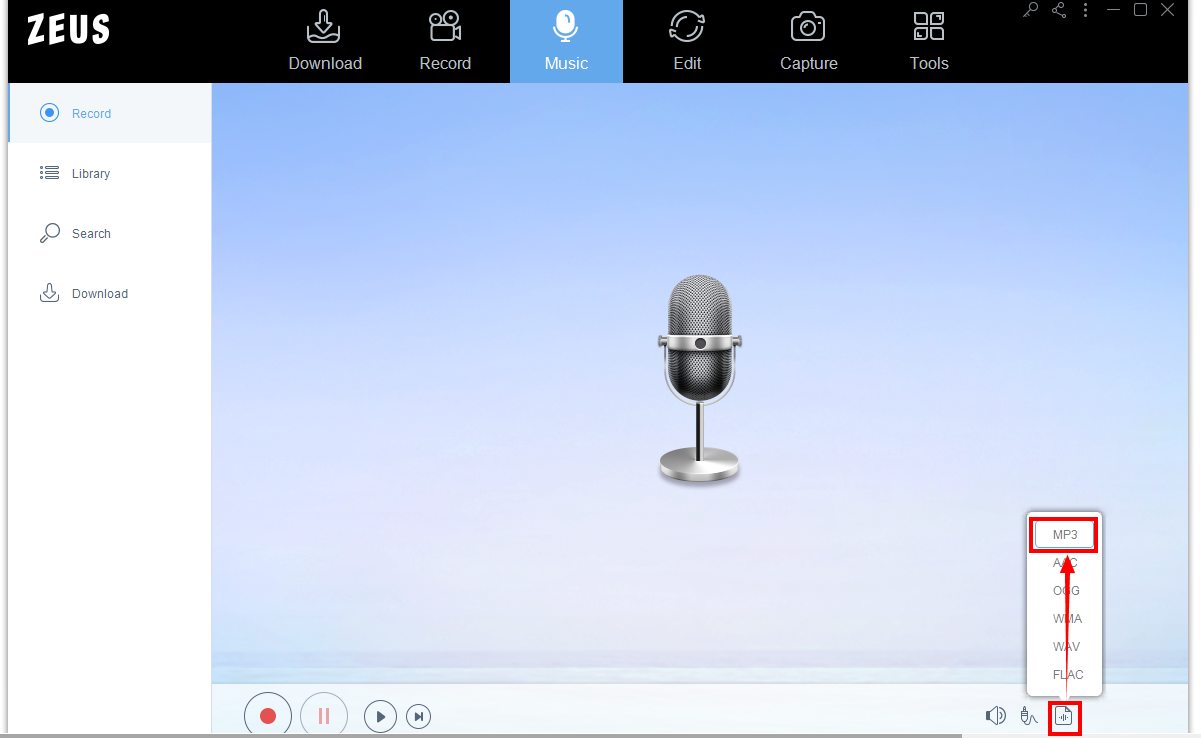 Step 4: Start Recording Deezer music
After everything is set, you can start recording your favorite Deezer music. Play the music you wished to record.
Under the record tab, click the "Play" button to start recording the Deezer music. While recording, you can pause and adjust the volume of the recording.
Step 5: Open the recorded Deezer music
Once the recording is done, the recorded file will automatically be added to your recording list. Right-click the file to see more options like Play,Edit, ID3 Identify, Burn to CD, etc.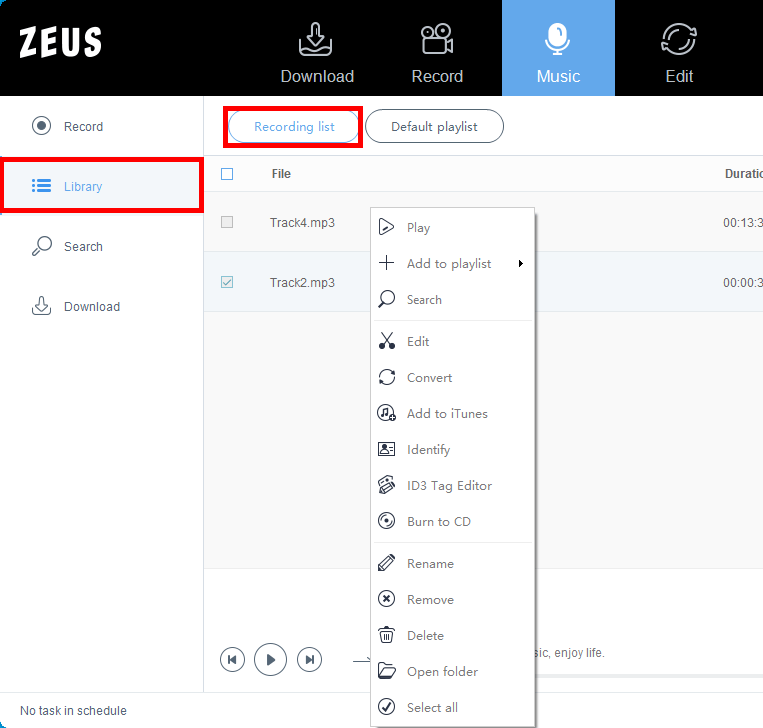 Conclusion
Deezer is known for its high-quality audio as clear as crystal. If you already have downloaded music from Deezer and you want to play it anywhere, then it would be great to convert Deezer offline files to MP3.
ZEUS MUSIC has an advanced feature that can record your downloaded Deezer music into MP3 format. You can now grab your favorite music anytime, and perform convert Deezer to MP3 at a very affordable price. ZEUS can also perform voice recording, ID3 Tags, music editing, ripping, and CD creation. Thus, it has different features that you can use to download and record videos, take a screenshot, etc.