Convert WebM to MP4 Easily – ZEUS EDIT
People are looking for the best software to convert their video files to the format that they want. They install a lot of converting software like WebM to MP4 conversion. WebM is a video and audio container format with a file container structure. Video streams compressed with VP8 or VP9 video codecs and audio streams compressed with Vorbis or Opus audio codecs make up WebM files. Video files in the WebM format have exceptional quality. Furthermore, because the playing of this video format is simple, videos in this format can be easily seen even on machines with limited technical capabilities. This format is ideal for online streaming, and it's also completely free! Mozilla Firefox, Google Chrome, Opera, and Microsoft Internet Explorer all support its format. WebM video files can be posted to YouTube, which is one of the most often asked questions among YouTube users.
Are you tired of having a plethora of software on your computer solely for conversion? What if there is software available that can convert WebM to MP4, MP4 to MP3, and even create a slideshow! There's good news! The best software for conversion is the ZEUS EDIT application. You will only need one application to solve all the conversions you needed.
Click the button below to grab this app now!
By the use of its free trial edition, downloading, recording, and editing are possible for up to one minute. Please upgrade to the full to continue using the app.
With the use of the packed function of the ZEUS software, you can easily convert WebM to MP4 free. This tool has a lot to offer especially in converting videos and audio. It will also allow you to convert your videos/audio that suits your devices. It is a user-friendly tool so it is best for a first-time user too.
Steps in Converting WebM to MP4
Step 1: Launch the Software
Click the "Edit" button in the ZEUS software. By default, the software will open the "Convert" icon.
Step 2: Add WebM File
Then, to add the WebM file, click the "+Add Files" button.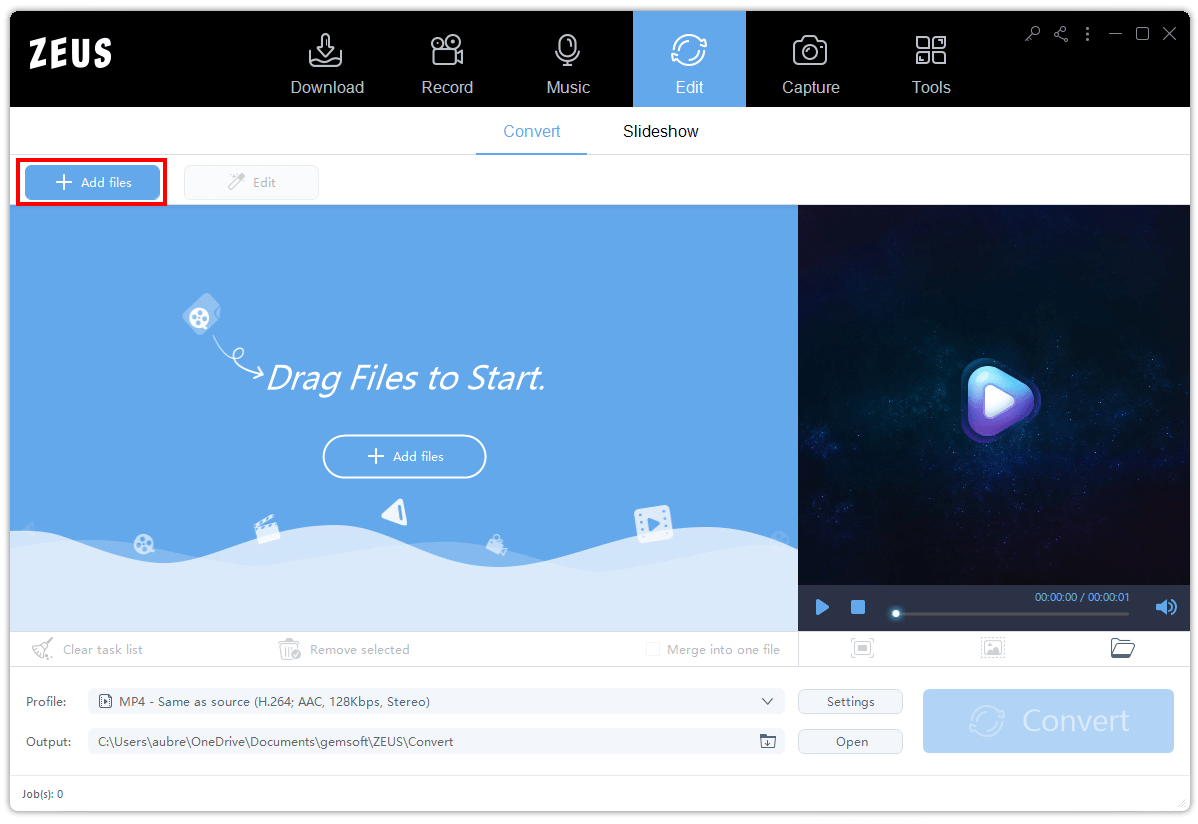 A new window will appear. Select from your file the WebM video you want to be converted. Click the "Open" icon to add it immediately.
Step 3: Change WebM to MP4 Format
Once your file has been added, click the "Profile" icon, select "MP4" as the format, and then click the "Same as Source" button to convert it to MP4 format.
Step 4: Begin to Convert
Once all set, click the "Convert" button to begin converting your file.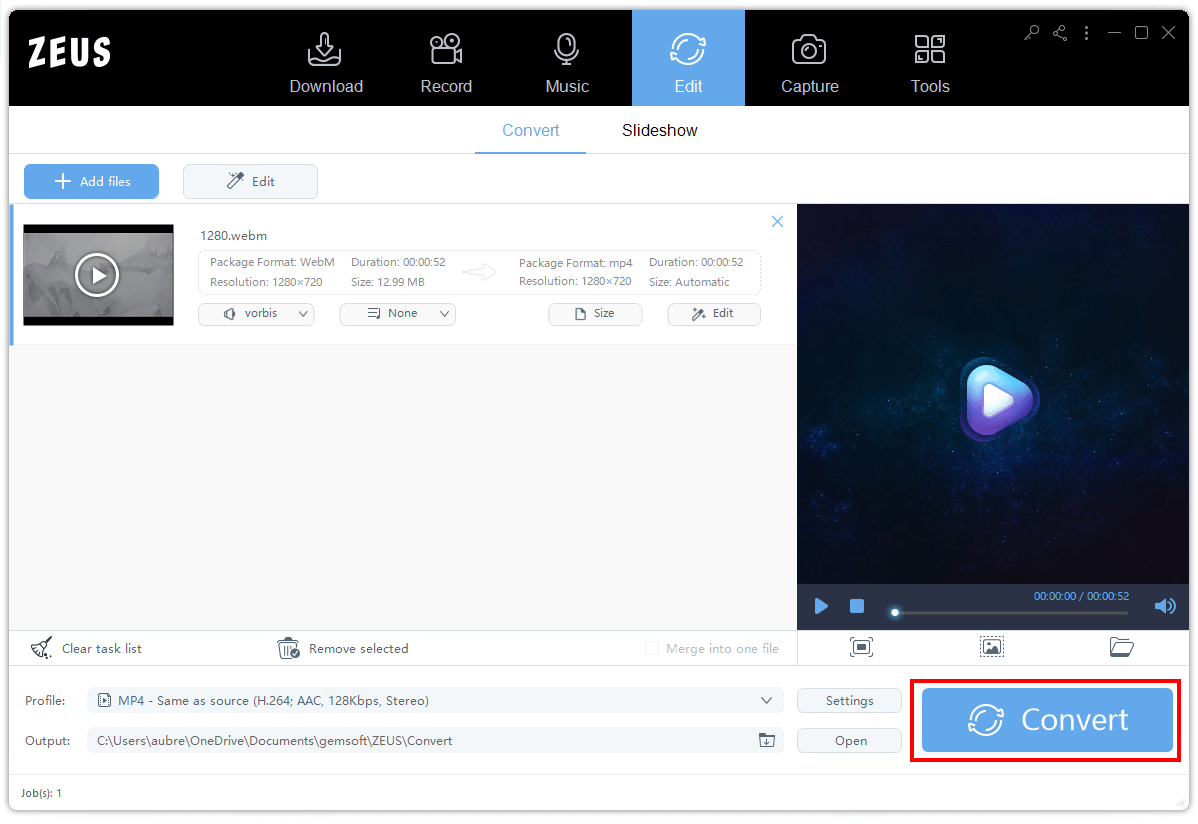 Step 5: Successfully Converted
Wait for a few seconds to convert your file into MP4 format. A tiny window will appear that tells conversion is done. Click the "OK" button to see your file. The file you converted will be saved right away to your computer.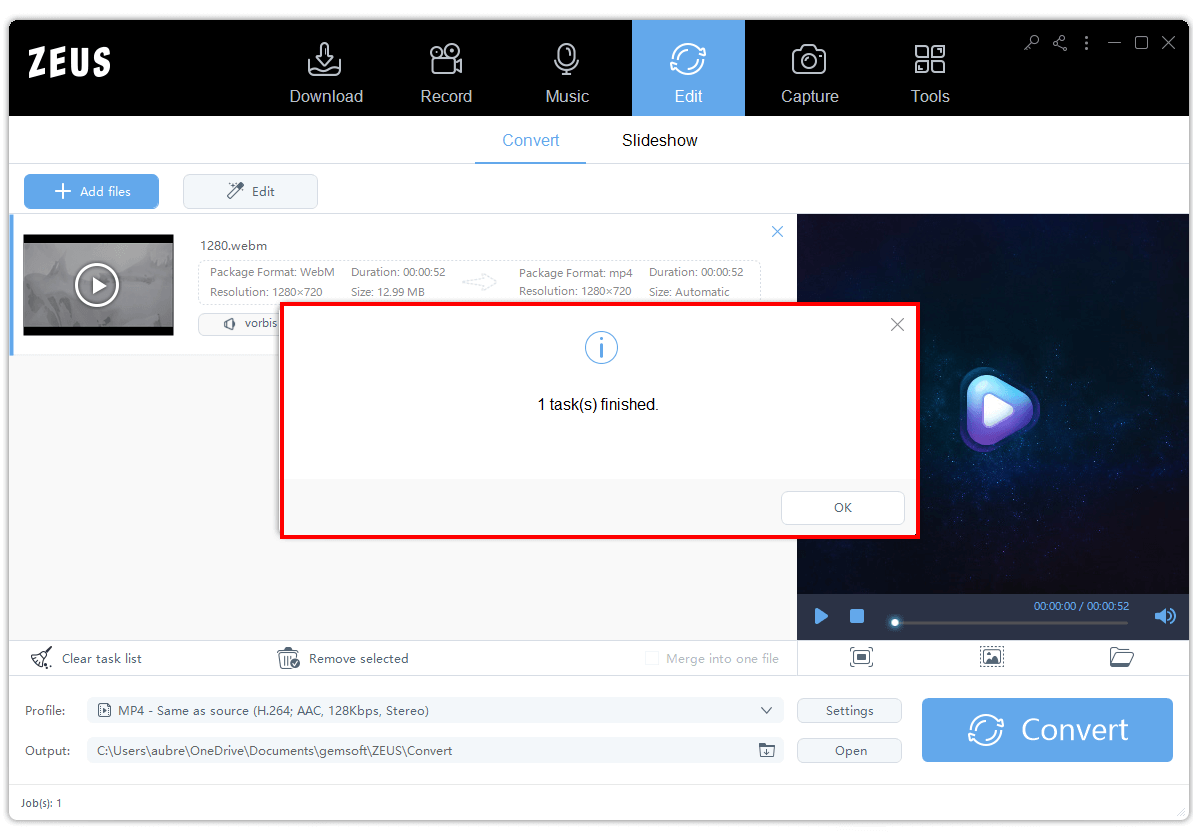 Conclusion
Despite the fact that the WebM and mp4 formats are extremely similar, more and more people prefer to convert their video files to mp4 because it is easier to watch and works on practically all devices. Have the ZEUS EDIT software to help you convert WebM to Mp4 immediately. This software will be of great help in conversion. It will also help you grab your favorite movies/series on different streaming sites!