Helpful Guide to Download Bilibili to MP4: Bilibili to MP4 Converter (2022)
Branded as the leading video streaming site for young generations, Bilibili offers unique and interesting features to build an engaging community. It contains a wide selection of video categories that focuses mainly on anime and manga. But, it has recently expanded to add more video categories like gaming, e-commerce, and other technologies. It's impossible to find a video community livelier than Bilibili. One of its highlight features that generation Z is crazy for is the bullet screen comment function. Just shoot your comments and you'll surely have fun getting user-to-user interaction.
Bilibili is also known to have the most diverse content which can be streamed in HD quality. It enables broad video-based content for professional user-based consumption like learning and business presentation materials. For easy sharing of these video content materials on different devices, it is recommended to download Bilibili to MP4 format. For this solution, a Bilibili to MP4 converter is necessary.
Download ZEUS BUNDLE LITE now by clicking the button below and enjoy streaming!
ZEUS BUNDLE LITE provides the perfect help for you! It is an all-in package that is packed with multiple features to give instant solutions to any multimedia challenges. Through its video downloader and converter tool, you can now easily convert Bilibili to MP4 and share across multiple devices.
Method 1: Copy and Paste URL
Step 1: Set format to MP4
To directly convert the video downloading to MP4, you must set the download output format to MP4. In order to do this, open the software and click the "Settings" icon in the main interface. List options will drop down, then just click the "Settings" option to proceed.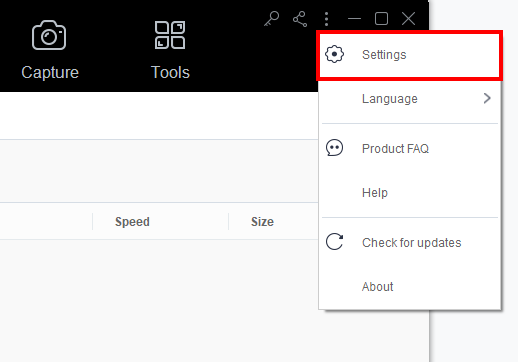 A new window for the settings will pop up. Then go to the "Download" tab and set the "Video" field to "MP4". Hit the "OK" button to proceed with the download procedure.
Step 2: Copy URL to download Bilibili video
Navigate to the Bilibili website on your browser and open your preferred anime video to download. Copy the video URL located at the top website address bar.
Step 3: Paste URL to download Bilibili video
Paste the copied video URL by clicking the "Paste URL" button under the "Download" menu. The video will then be processed for downloading. You will see it added automatically in the "Downloading" tab.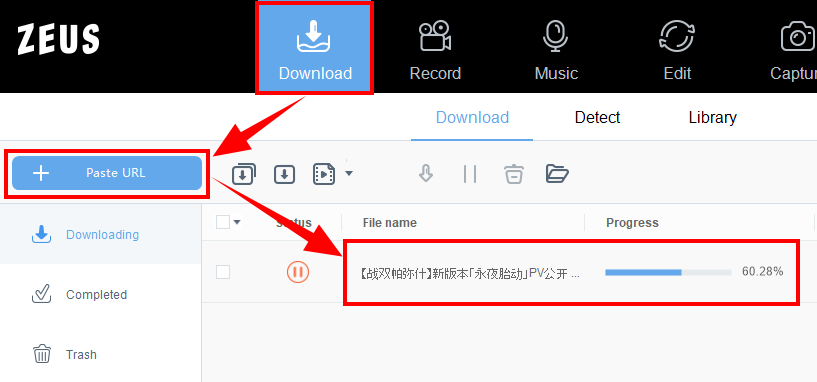 Step 4: Download complete
After the downloading process is complete, go to the "Completed" tab to check the Bilibili videos download. Right-click the video file to see more options.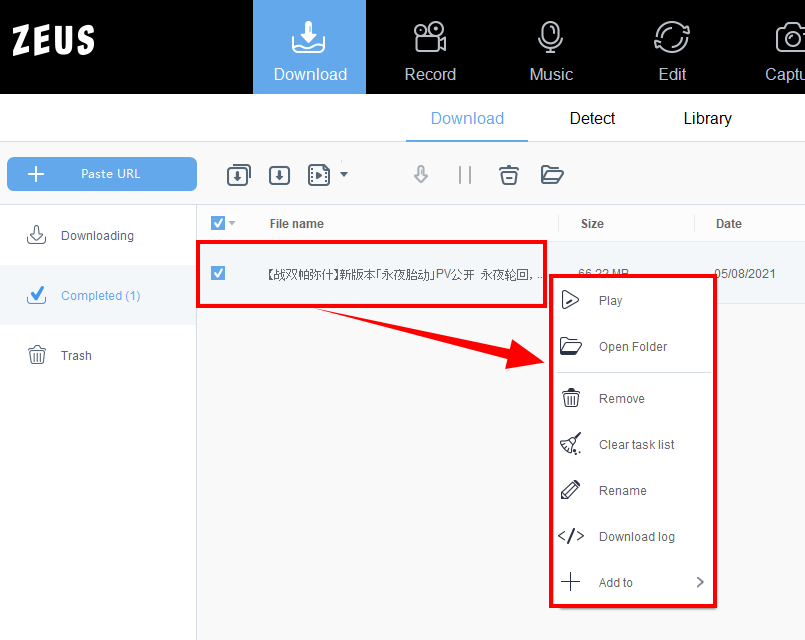 Method 2: Record Bilibili Anime Videos
Step 1: Set the recording format
For a smooth recording, make sure to set the correct codec format before recording. To do this, just click the "Settings" icon in the software interface. A list of options will drop down, click the "Settings" option to proceed.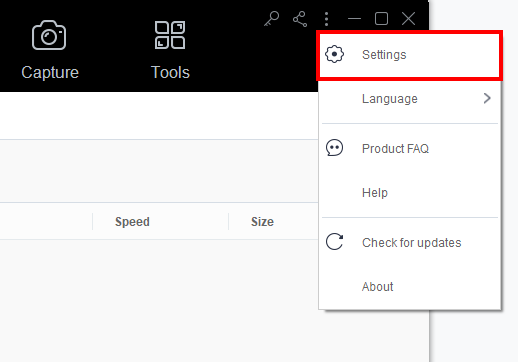 The Settings dialog box will pop up where you can modify the default settings. Click the "Record" tab and then under the "Output", click the "Format" icon and select the MP4 format. Lastly, click the "OK" button to save changes.
Step 2: Choose Recording Area
To record the video, just click the "Record" menu and select the recording area by clicking the "Record dropdown" button. Using the ZEUS BUNDLE LITE you can choose from the available recording area options such as Fullscreen, Region, or Audio only. Once the recording area is selected, a countdown will appear indicating that the recording will start.
In this example, we will use the recording area by Region.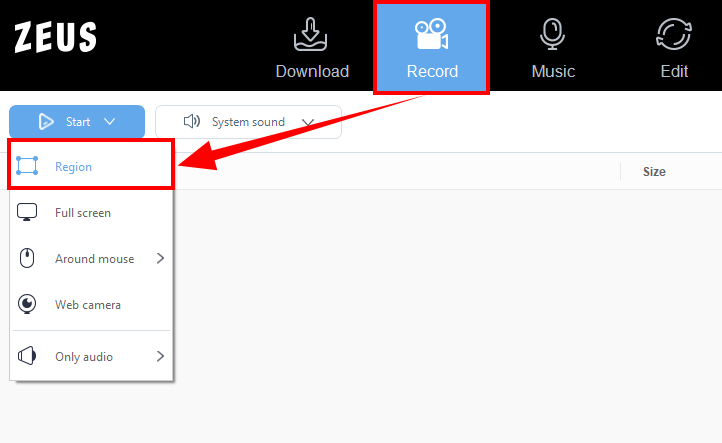 Step 3: Start recording the anime video
After the countdown, a small box of recording options will pop up. Click pause or stop if necessary.
Step 4: Open the recorded anime movie
Once the recording is done, the recorded file will automatically be added to your record list. Right-click the video to see more options available such as Play, Remove selected, Clear task list, Rename or Open the folder. Select "Open the folder" to check and open the file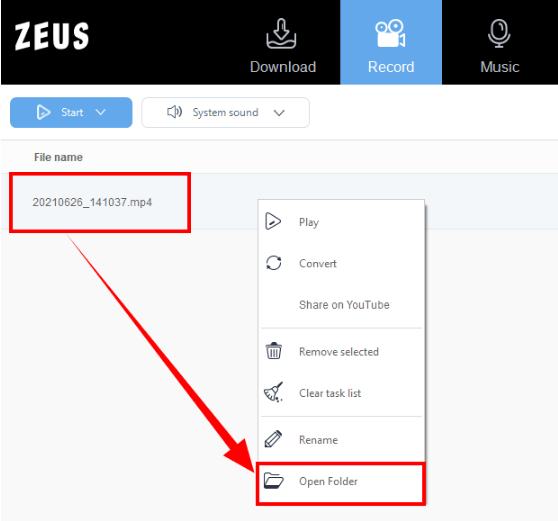 Conclusion
What's make Bilibili stand out among other video streaming platforms is its commitment to keep up with the growing interest of users while giving out engaging content and a vibrant community. Streaming itself could be a bit boring and so having a fun interaction with other users could easily hype you up.
Aside from that, Bilibili is a great source to find professional content and having it stored on your local storage device. For easy access and device compatibility, it would be best to download Bilibili to MP4 format.
A great tool to use for this solution is ZEUS BUNDLE LITE. It is packed with many useful features making it flexible whatever multimedia solutions you need. For direct download and conversion of Bilibili videos to MP4, this software offers its video downloader tool which allows direct conversion to MP4. It also supports other formats such as AVI, FLV, 3GP, and others. Not only that, but it also offers bonus features such as Add to iTunes tool, CD Burner, and can also download from other 1000+ streaming sites.