Effective and Efficient Way to do Batch Download Anime (2022)

There are plenty of anime websites that offer a good streaming experience online. However, there are instances that anime fans prefer to have it saved on a local PC for smooth unlimited offline playback or for their anime video collections. It is undeniable that having your own backup and do batch download anime of all big anime titles gives many conveniences such as having easier access anytime or anywhere, secured copies in case of anime sites downtime, easy to share on devices, and many more.
Unfortunately, you can rarely find batch download anime websites that support downloading anime videos in bulk. Luckily, there are batch download anime tools that you can use to make this possible.
Download ZEUS DOWNLOAD now by clicking the button below and enjoy streaming!
ZEUS DOWNLOAD is the most recommended batch downloader tool that you can use. With its user-friendly interface, you can easily download multiple videos at once just by copying and pasting the anime video URL. No need to worry about downloading the whole episodes or even the whole seasons since you can easily do a batch download anime episodes or batch download anime eng sub in just a few clicks!
Steps on How to do Batch Download Anime
Step 1: Open the Batch Downloader tool
Launch the ZEUS DOWNLOAD and open the batch downloader tool by clicking the batch download button under the "Download" menu beside the "Paste URL" button.
Step 2: Copy and Paste video URL
A new window will open for the batch downloader tool. Get your list of anime videos that you want to download and copy. Then proceed to the batch downloader tool paste the copied video URLs. You may use the keyboard shortcuts Ctrl+c and Ctrl+V to copy and paste the video URLs or you can just directly click the "Paste URL" button after copying.
If all video URLs are pasted, click the "OK" button to proceed with the downloads.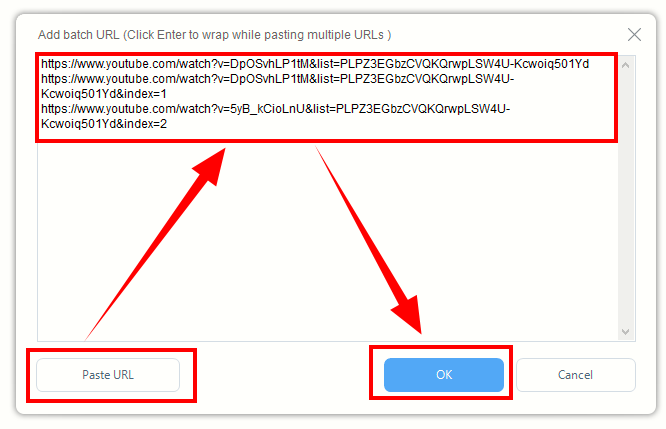 Step 3: Start downloading videos
All pasted URLs will then be processed for download. You may check its download progress under the "Downloading" tab.
Step 4: Download complete
Once the download process is completed, it is automatically transferred under the "Completed" tab. Just right-click the downloaded video to see more options such as Play, Open Folder, and etc.
Conclusion
Downloading your favorite anime one by one is already long overdue. Due to our modern technology nowadays, almost all multimedia needs are provided with the best solutions. No need to hassle yourself with downloading videos one by one per episode and per season and start giving yourself some rewards and use a handy batch downloader tool to do batch download anime effectively and efficiently.
ZEUS DOWNLOAD gives you just what you needed! With its fully packed functionalities for all your multimedia solutions, you can surely find it very handy. This includes its batch downloader tool which allows users to just copy a long list of video URLs and just paste it to have it downloaded. Moreover, it also allows downloading to 1000+ more websites with many added features like Music download, ID3 Tags, Speech Recording, and more.