AudioJungle Downloader Alternative: How to Save AudioJungle MP3 Music (2022)
AudioJungle is a part of the Envato Marketplace family that allows users to buy and sell royalty-free music and a variety of sound effects such as industrial sounds, interface sounds, domestic sounds, etc. It also provides great source files which help audio composers and editors work seamlessly. This could be the best home for the bustling audio engineer's community, you may say!
This music platform also contains an extensive library with approximately 1.3 million tracks and sound effects which can be easily found through its filter feature. All contents can be sorted by category list, keyword search, popular files, top authors, and others. Through AudioJungle, users can buy individual songs at the cheapest price. With just a few dollars, videomakers can use the AudioJungle downloader alternative without worrying about copyright infringement issues. Although its price looks cheap, paying for individual tracks can get expensive. As a solution, it would be best to record AudioJungle music with ZEUS MUSIC as an alternative to the AudioJungle music downloader.
Download ZEUS now by clicking the button below and enjoy the beat!
ZEUS MUSIC has the ultimate solutions for this! It is a highly recommended multimedia software that offers an advanced music recording tool that allows easy way of recording music from AudioJungle without any quality loss. Also, it has a direct conversion function to different music formats like MP3, AAC, FLAC, WMA, etc. It even has a user-friendly interface which makes everything done in just 5 simple steps.
Steps on How to Record Music from AudioJungle
Step 1: Go to the "Music" tab
Launch ZEUS, click the "Music" function menu, and click the "Record" tab.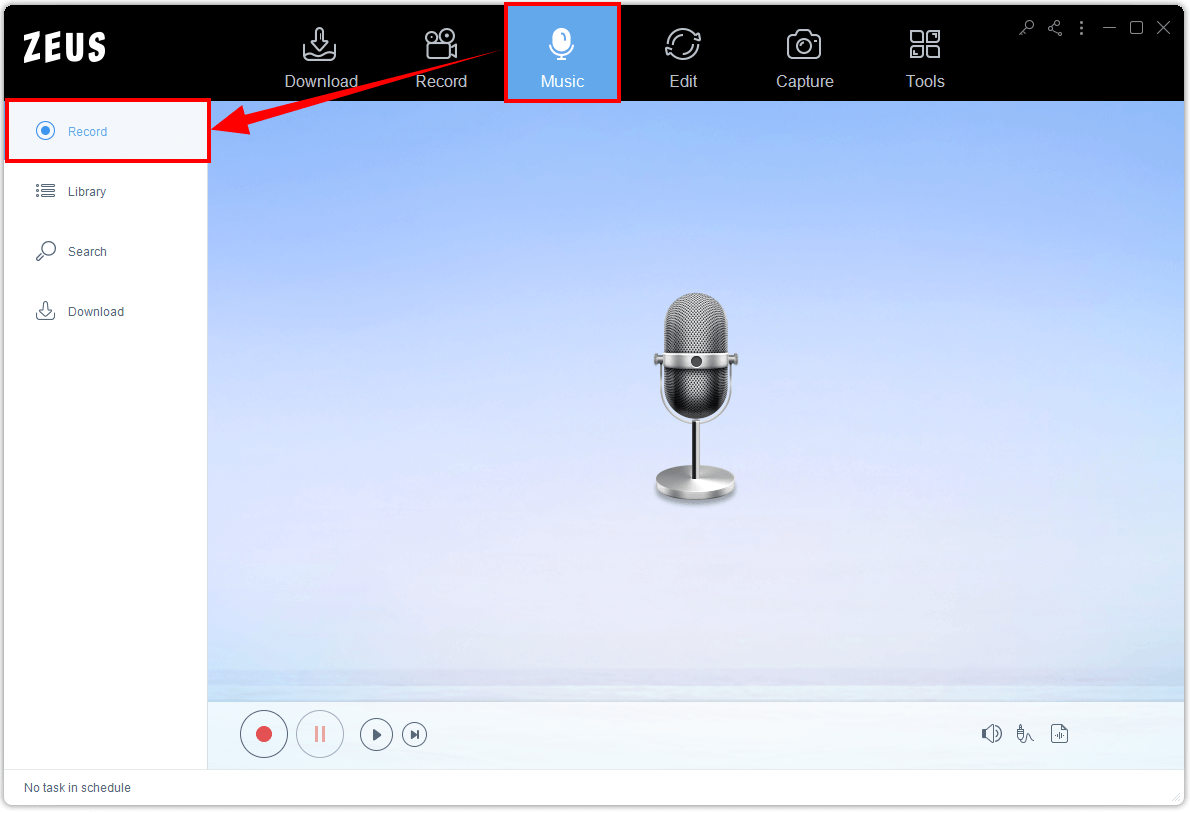 Step 2: Set the Audio Input
Click the "Audio Input" icon at the bottom and select from the options: System Sound, Microphone, or System Sound and Microphone. To avoid external noises, it is recommended to set the Audio Input to "System Sound".
Step 3: Set the Output Format to MP3
Click the "Format" icon at the bottom and select "MP3" from the options.
Step 4: Begin the Music Recording
Begin the recording by clicking the "Record" button.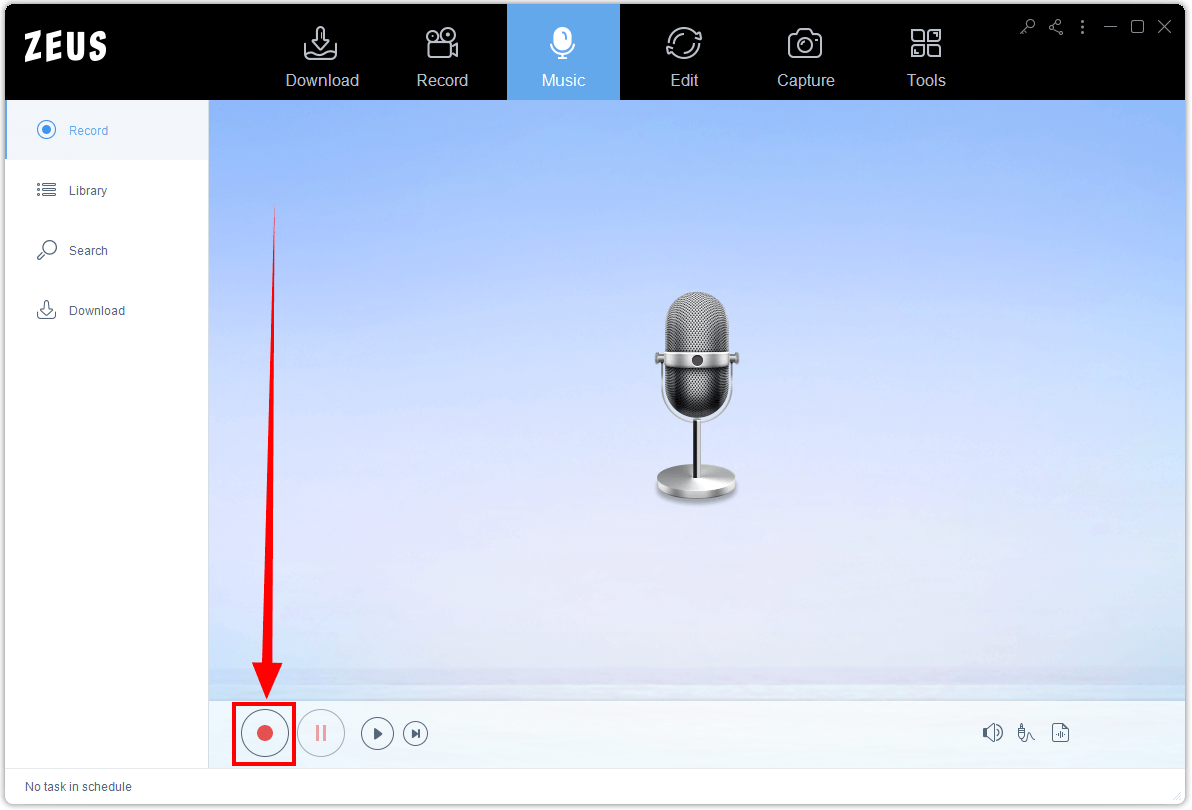 Then go to AudioJungle website and play the music to have it recorded.
If the music recording is finished, click the "Stop" button to end the recording.
Step 5: Open the recorded AudioJungle music
Once the recording is done, the recorded file will be added to your recording list. Right-click the file to see more options like Play, Edit, ID3 Identify, Burn to CD, etc.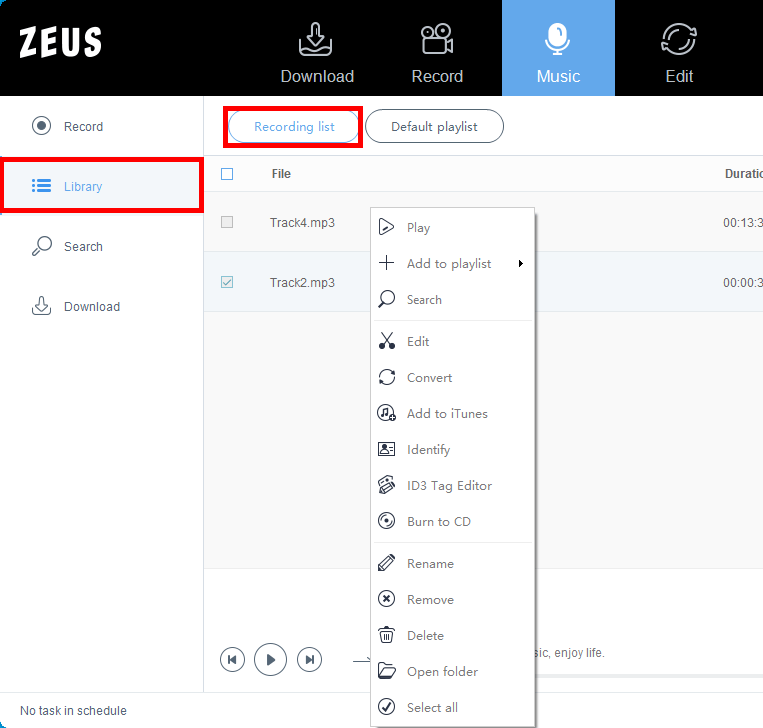 Conclusion
AudioJungle is the best platform to find licensed tracks and sound effects. Its track pricing individually is way cheaper than others however, if you are planning to get bulk downloads, this can be expensive. Having package pricing or having an AudioJungle download free option would be a big advantage. Since that still remains a suggestion, the best AudioJungle downloader alternative is the AudioJungle music record.
ZEUS MUSIC gives the ultimate solution to this in just 5 simple steps. Through its advanced music recording tool, you can now easily grab your favorite tracks and sound effects from AudioJungle without the need of paying individually per track. Moreover, it brings many added features that you can enjoy such as video downloading from 1000+ websites, screen recording, voice recording, etc.