Quick Alternative Ways to do AnimeTake Anime Downloads (2022)
If you're a new anime fan who doesn't have any idea what to stream, then you better check out AnimeTake. It is one of the most competitive anime streaming sites in the industry that provides the best filtering feature. This filtering feature makes the user browsing much easier where they can easily sort anime videos by letter, genre, year, and rating. To easily see the most popular anime series, users can also directly click on the "Popular" button to see all lists or add anime videos to favorites.
AnimeTake surely knows how to take care of its user's eyes as it includes Light and Dark versions. Most users love the Dark version as it provides eye comfort to streamers who watch at night. For streaming, it uses external servers in which multiple mirrors are available in case the other servers become unavailable. To do AnimeTake Anime downloads, the quickest alternative is to record anime videos from AnimeTake through a third-party tool.
Download ZEUS RECORD now to start your anime recordings!
ZEUS RECORD could be your knight in shining armor in this situation. It offers professional solutions to easily grab anime videos from AnimeTake through its advanced features. Another big point is its capability to add customizations while recording making it flexible.
Steps on How to Screen Record AnimeTake Videos
Step 1: Set the recording area
To record the video, just click the "Record" menu and select the recording area by clicking the "Record dropdown" button. Using the ZEUS RECORD, you can choose from the available recording area options such as Fullscreen, Region, or Audio only. Once the recording area is selected, a countdown will appear indicating that the recording will start.
In this example, we will use the recording area by Region.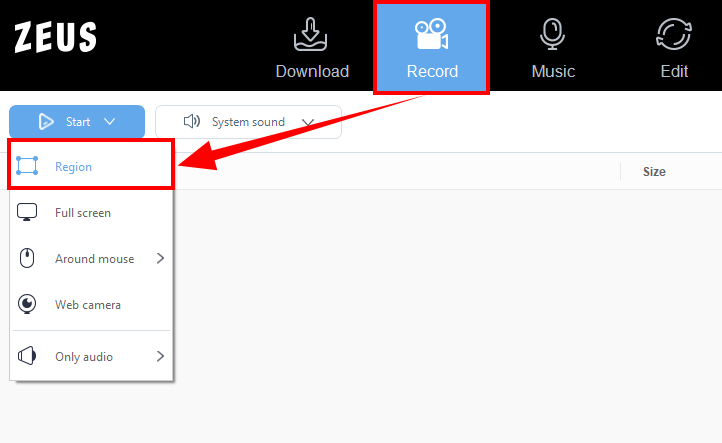 Step 2: Start recording the anime
After the countdown, a small box of recording options will pop up. Click pause or stop if necessary.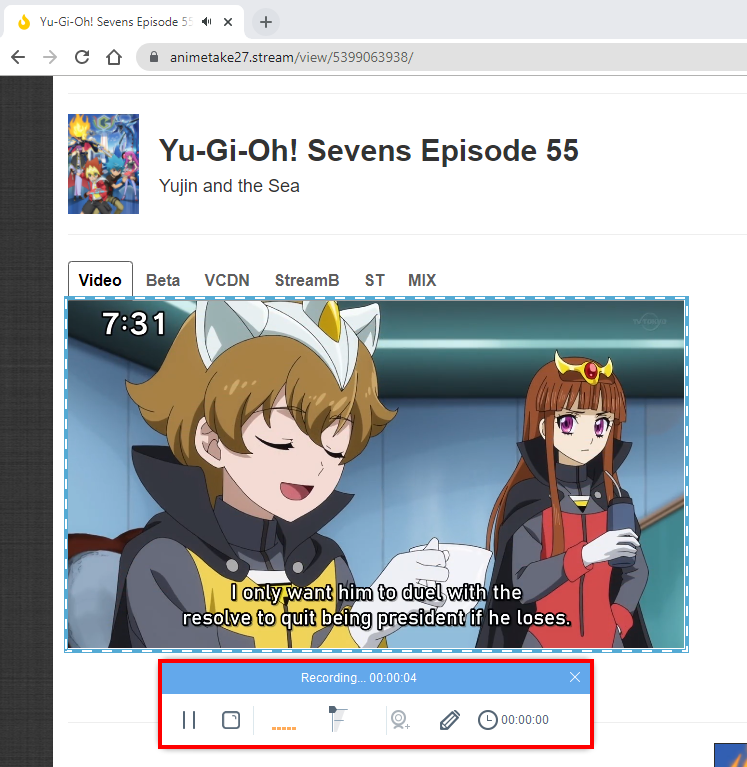 Step 3: Open the recorded anime
Once the recording is done, the recorded file will automatically be added to your record list. Right-click the video to see more options available such as Play, Remove selected, Clear task list, Rename or Open the folder. Select "Open the folder" to check and open the file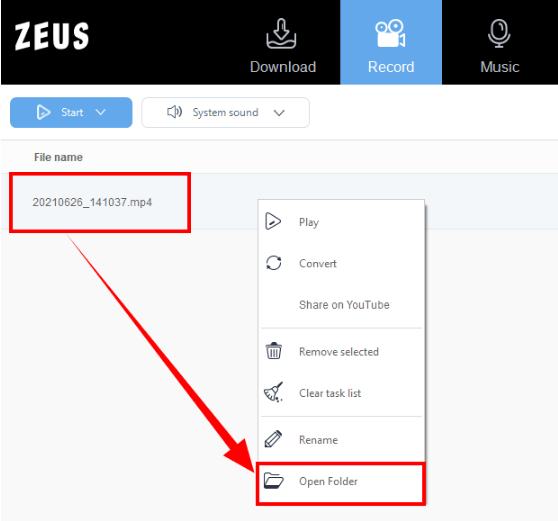 Conclusion
AnimeTake is one of the best anime streaming sites that can provide easy and fast streaming of anime videos online. It has a user-friendly interface and advanced features making it easy to browse and find the preferred videos.
Unfortunately, AnimeTake doesn't have an option available to do AnimeTake Anime downloads. Good thing, ZEUS RECORD has the perfect solutions to this. Through its screen recorder tool, users can easily grab their favorite anime videos in no time. Stretching its capabilities, this software also allows live annotation where users can add customizations while recording like adding texts, shapes, arrows, etc. More than that, it can also download videos from other 1000+ anime sites and enjoy its many added features like Music download, and more.