The Best and Latest Webcam Recorder for PC (2022)
Adding webcam footage to a video with a webcam recorder is a simple method to enhance engagement and help people interact with your content. A webcam is an essential tool in your video production toolkit. They may be used to make YouTube videos, instructional films, or just to add personality to any video. You may use a screen recorder or a specialized webcam recorder for PC. Preferably, I would record using a screen recorder.
A basic webcam recorder can work if all you need to do is produce webcam films, but if you're generating product demos, training videos, or other sorts of instructions, you'll want to be able to capture everything on your screen, including the camera. As a result, it is typically advised to employ high-quality screen capture software.
Whether you want to add webcam footage in a training video or start a movie with live intro, ZEUS RECORD is the best webcam recorder for PC! This tutorial will lead you through the easy steps of utilizing this program to record webcam footage.
ZEUS RECORD, is your best bet for the best webcam recorder program for PC! Its screen recording capability provides convenient recording options that let users select recording areas depending on region, windowed, full screen, around the mouse, or via a web camera. It also supports audio-only recording and recording in a variety of audio formats such as MP3, WAV, FLAC, and others. Using the real-time annotation tool, you may make further edits while recording.
Recording for only three minutes is available for the free trial. Upgrade to lift limitations.
Try ZEUS RECORD now by downloading the software below! 
How to Record Webcam Footage via ZEUS RECORD
Step 1: Open ZEUS and select the audio input.
Launch ZEUS and go to the "Record" function screen. By default, the "Audio Input" is set to "System Sound". Click it to see all options such as None, System Sound, Microphone, System Sound and Microphone.
We will choose "Microphone" in this demonstration.

Step 2: Select the recording mode.
Click on the "Record" button. Select your preferred recording mode from the dropdown list.
Choose "Webcam" to start recording your Webcam footage.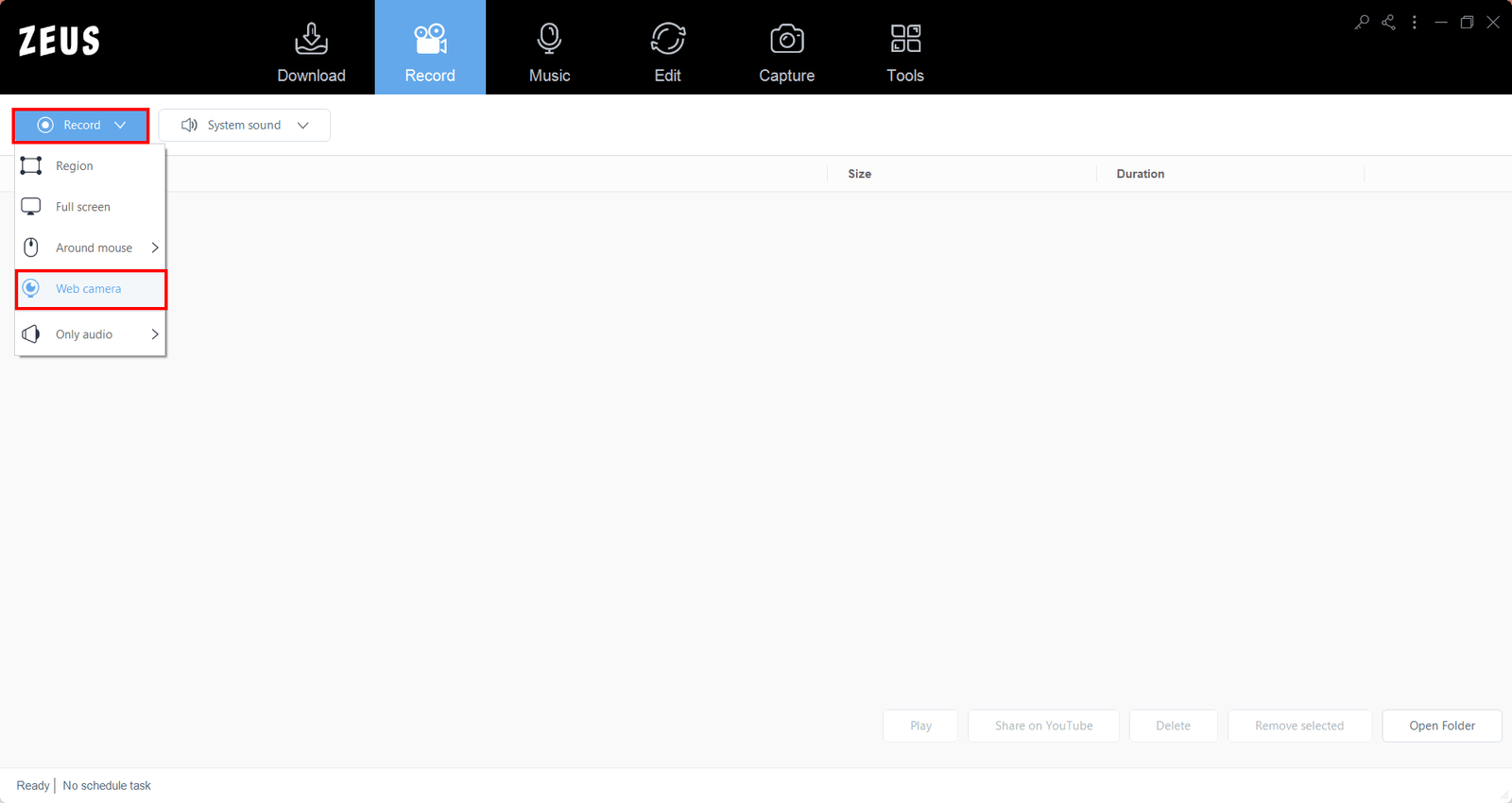 Step 3: Customize your webcam recording settings.
You will be taken to a webcam recorder window. Customize your settings to adjust your preferred webcam recording preferences. To start recording, click on the "Start" highlighted below.
Step 4: Start recording your webcam!
The recording has started when the counter appears above. You can pause the recording when necessary, stop to finish your recording or set the timer to a specific time to stop recording.

Step 5: Manage your recorded webcam footage.
When you're finished recording, click "Stop." Return to ZEUS RECORD to review your recorded webcam footage. Manage your recorded video by double-clicking to watch it immediately or right-clicking to get other choices.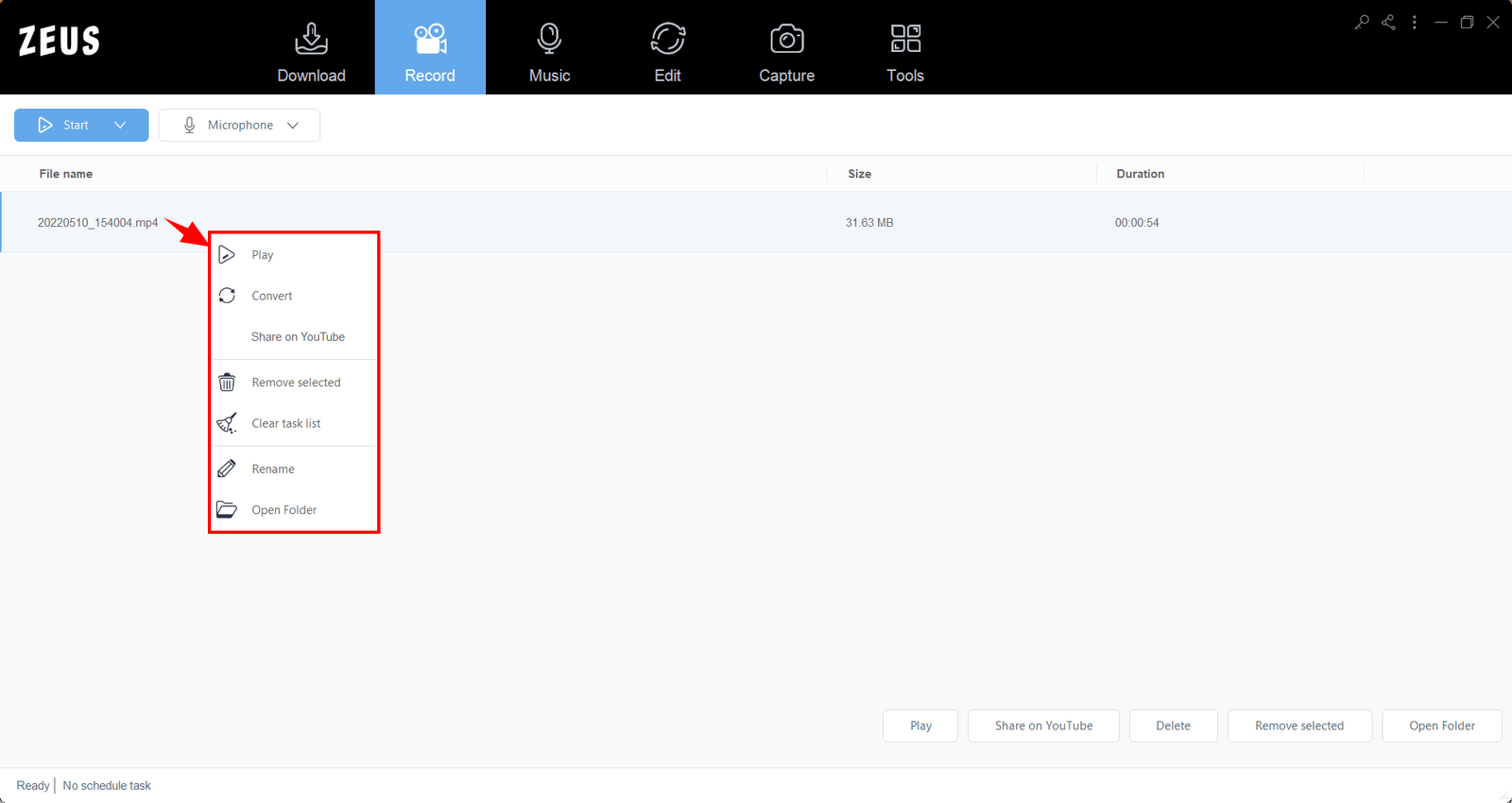 Conclusion
Now that you know how to record with your web camera, here are a few things to think about when making your fantastic video: 
Your setup

– Tilt your webcam to eye level so that your viewers don't have to gaze up at you. To avoid being distracted by a cluttered background, place yourself in front of a solid color wall or put a sheet behind you. 

Your lighting

– Make sure to pay attention to your video lighting. Avoid recording in front of a window if you're filming near one. Place yourself next to or in front of the window. You won't get washed out or become a silhouette this way.

Inbuilt Webcams

– If you use the built-in camera on your computer, the webcam will default to the machine's system audio, which may be of poor quality. For the finest sound quality, use an external microphone. Check that the software is capturing audio from the correct source. Then, before you begin recording your voice-over, make sure your external microphone is working properly.

External Webcams

– Although most external cameras feature a microphone, it is typically preferable to check the quality of the microphone. Also, be sure to enable the camera option in your recording toolbar before you begin recording. While using a webcam recorder may not be the best solution for all sorts of material, it may help you interact with your audience more effectively.
Need a webcam screen recorder for PC or just an alternative for your current one? ZEUS RECORD is the one you're looking for! It is the webcam recorder for pc best fitted for windows computers. It is quite safe too, with no ads to bug you while you screen record your webcam footage, and webcam recording is done in simple, fast steps.