Quick Guide on How to Use Anime Planet Downloader Alternative (2022)
One of the best websites to find anime information and the latest updates is Anime-Planet. All streaming history is recorded and it shows recommended videos to stream based on it. This website also relatively stands out among its competitors because of its capability to offer in-depth information about Anime and Manga. Additionally, its easy-to-use website interface made it easy for any user to explore and navigate to each page.
Anime-Planet is also known for being a child-friendly site that aims to protect children from streaming inappropriate videos. Parents don't have anything to worry about as this anime site doesn't contain any mature content but rather focuses solely on giving great recommendations for anime videos to stream. However, this site only allows users to watch online and that means an internet connection is required. Unfortunately, users cannot smoothly stream online because of some instances like having a slow internet connection, needing to travel, and other more personal reasons. For users' convenience, it would be great to be able to stream your favorite anime videos offline. To make this possible, you will need an Anime-Planet downloader to do this.
Download ZEUS RECORD now by clicking the button below and save your favorite anime videos now.
ZEUS RECORD is a great Anime-Planet video downloader alternative that you can use. It offers an easy and fast way to record anime and save them in a high quality output. In just a few clicks, you can now watch anime offline anywhere and anytime you want.
Easy Steps on How to Use Anime-Planet Downloader Alternative via Screen Recording
Step 1: Set the recording area of the anime video
To record the video, just click the "Record" menu and select the recording area by clicking the "Record dropdown" button. Using the ZEUS RECORD, you can choose from the available recording area options such as Fullscreen, Region, or Audio only. Once the recording area is selected, a countdown will appear indicating that the recording will start.
In this example, we will use the recording area by Region.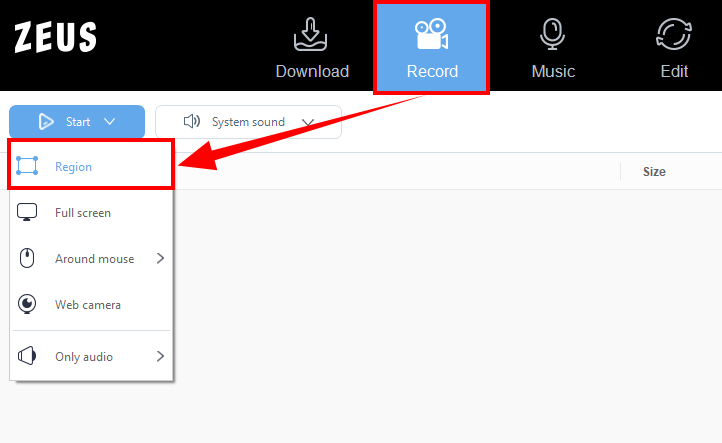 Step 2: Start recording the anime video
After the countdown, a small box of recording options will pop up. Click pause or stop if necessary.
Step 3: Open the recorded Anime
Once the recording is done, the recorded file will automatically be added to your record list. Right-click the video to see more options available such as Play, Remove selected, Clear task list, Rename or Open the folder. Select "Open the folder" to check and open the file.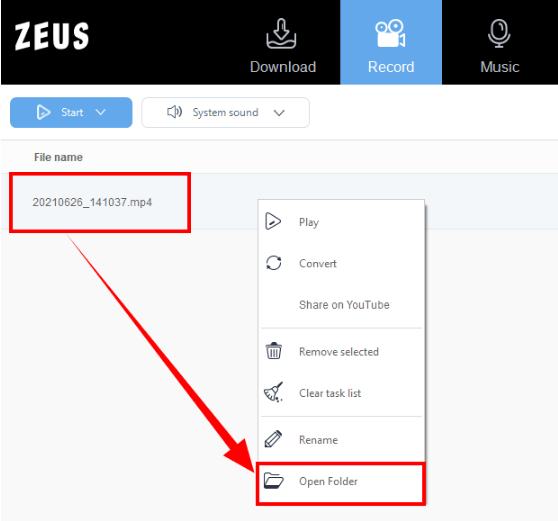 Conclusion
Anime-Planet is a website that can track your watched history and make a list of the recommended anime videos based on your previous or current streaming. It impressively contains a comprehensive list of A+ quality anime videos to stream. You can also discuss the episodes through the forums and interact with other users as well. It is a great idea to have an Anime-Planet downloader alternative to save videos offline.
ZEUS RECORD is a highly recommended alternative solution for an easier way of recording videos. It can also save videos from 1000+ different anime websites aside from Anime-Planet. Moreover, it has features that can help you record music, take a screenshot and download videos.