The Safest Methods to Save TikTok Without Watermark in Video (2022)
TikTok videos are known to have watermarks with its logo and the user who posted the video as means of content protection or crediting the original content creator. While this is great for content creators, it isn't all too good for people who love to download videos online for entertainment. While there are others that don't mind downloading TikTok videos with a watermark on them, some would rather have without it. There are tons of video downloaders out there claiming to be the "best" way to save TikTok videos without a watermark but not a lot of them are safe nor true to their word.
If you're looking for one, you might as well consider the truly best and safest way to save TikTok videos without that troublesome watermark. Still, having a hard time looking for a better and safer way to save TikTok without watermark in the videos? ZEUS is here to save the day!
ZEUS RECORD is a superb and capable program that captures/records your screen and downloads videos and sounds! It works with Windows 11/ 10/ 8.1/ 8/ 7 PCs. Users can record areas via region, web camera, full  screen, or around the mouse using its screen recording tool., It can record audio alone in WAV, MP3, FLAC, and other formats. While filming, there are more customization choices available, including the capability to annotate in real-time. ZEUS EDIT is the main video editor of ZEUS. This tool has also a slideshow function wherein you can create your own photo slideshow or video slideshow you want. This is also a malware-free application.
With its capacity to screen record, audio record, and video edit in high quality while remaining affordable, ZEUS is the most popular software to save TikTok without watermark high-quality videos and record these videos from your PC. With ZEUS, you may get started for a reasonable price by purchasing the full edition of the recording feature and video editor first, then upgrading to add functions like audio and video download, music downloader, and so on.
Method 1: Screen Record by Selecting Area ZEUS RECORD
Step 1: Open Private TikTok Video to Record
On your computer browser, prepare the private TikTok video you want to record.

Step 2: Select Recording Mode
Launch ZEUS then click the 'Record' button. Select your desired recording mode from the dropdown box: Region, Fullscreen, Around mouse, or Web camera.
In this example, we will use "Region".
After selecting 'Region; for your recording mode, return to the TikTok video and select the area you want to record.

Step 3: Prepare to Start Recording
A resolution adjusting tool will pop up so that you can customize the part you want to include in the recording. Adjust it further to crop out the TikTok watermarks on the top left and bottom right sides of the video. Click "OK" when done.
Another pop-up window will appear, alerting you to be ready to record. Click "OK" when ready. A countdown will begin, indicating that the recording will start when it reaches 0.

Step 4: Start Recording!
Your recording has begun and a control toolbar will show up.
Note: You can pause the recording when necessary, stop when finished recording or click the pencil icon to annotate.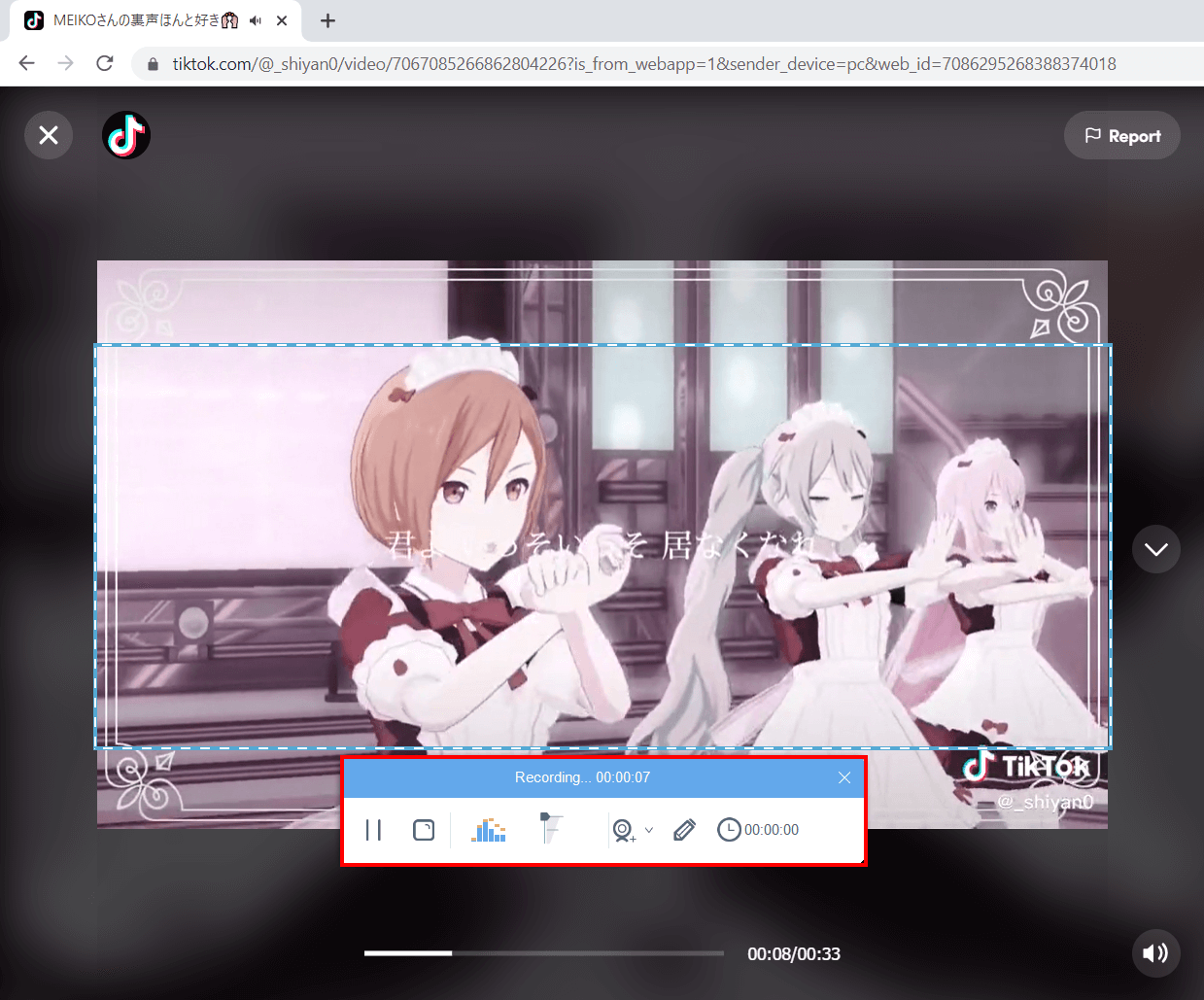 Step 5: Recording Complete
Once you're done recording, click on "Stop". Go back to ZEUS to check your recorded video. Manage your recorded video by double-clicking to toggle play or right-clicking to see other options.
Method 2: Edit Screen Recorded Video to Crop Watermark with ZEUS EDIT
Step 1: Screen Record Video without Cropping Watermark
Go back to ZEUS RECORD and select "Region" once again to record the video by selecting the area to record. This time, do not crop out the area where the watermarks are usually placed (top left and bottom right) of the TikTok video.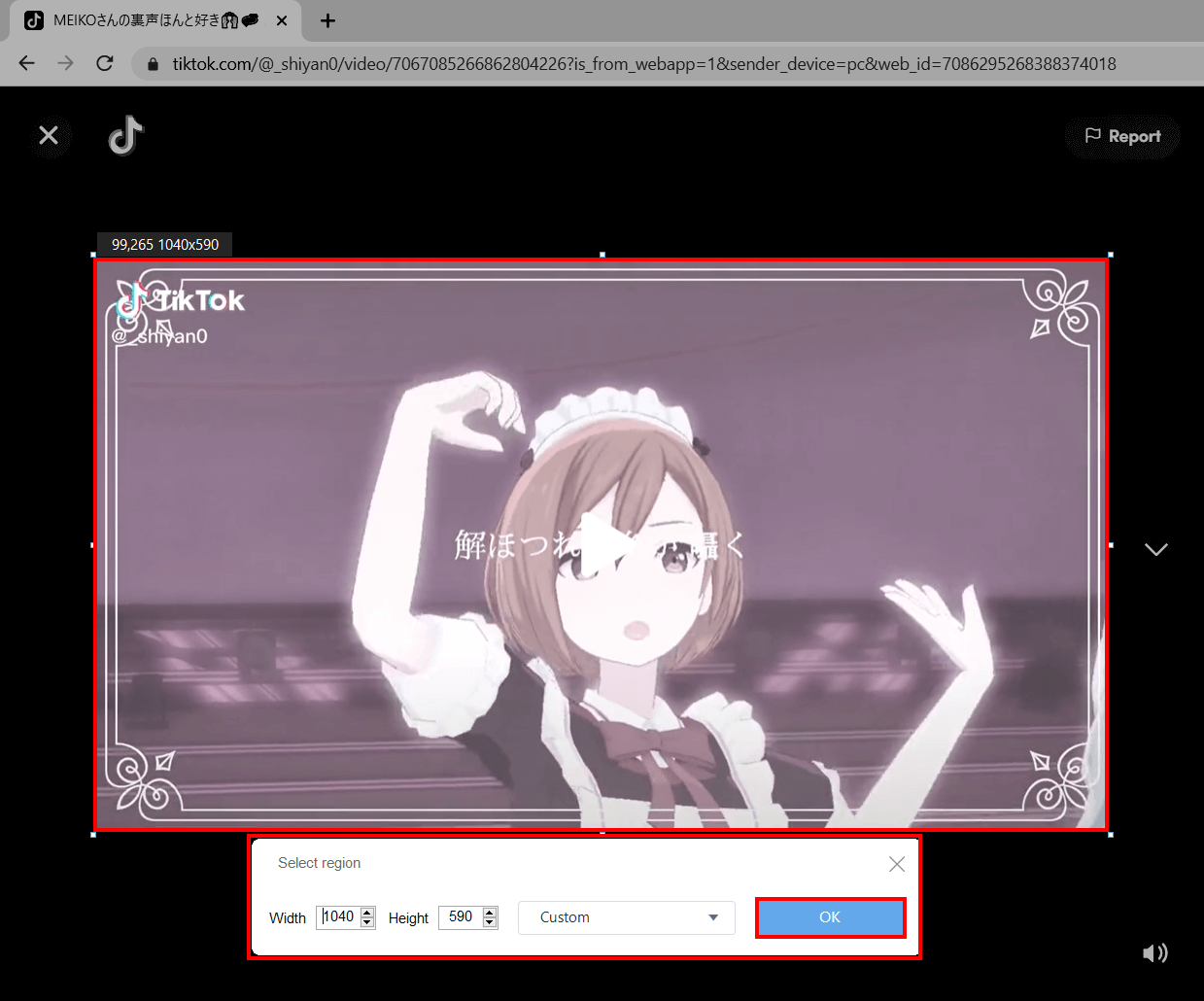 Record the video again. Click "Stop" when the video finishes.

Step 2: Go to "Edit"
After the recording is finished, switch to the "Edit" tab. Once there, click "Add Files"
Open the TikTok video you recorded that you can find from the default output folder for recording in ZEUS.
In this case, it's in: C:\Users\\OneDrive\Documents\ZEUS\Recording

Step 3: Start Editing TikTok Video
Once your file is selected and loaded, click on the "Edit" button located on the video or top right of the video.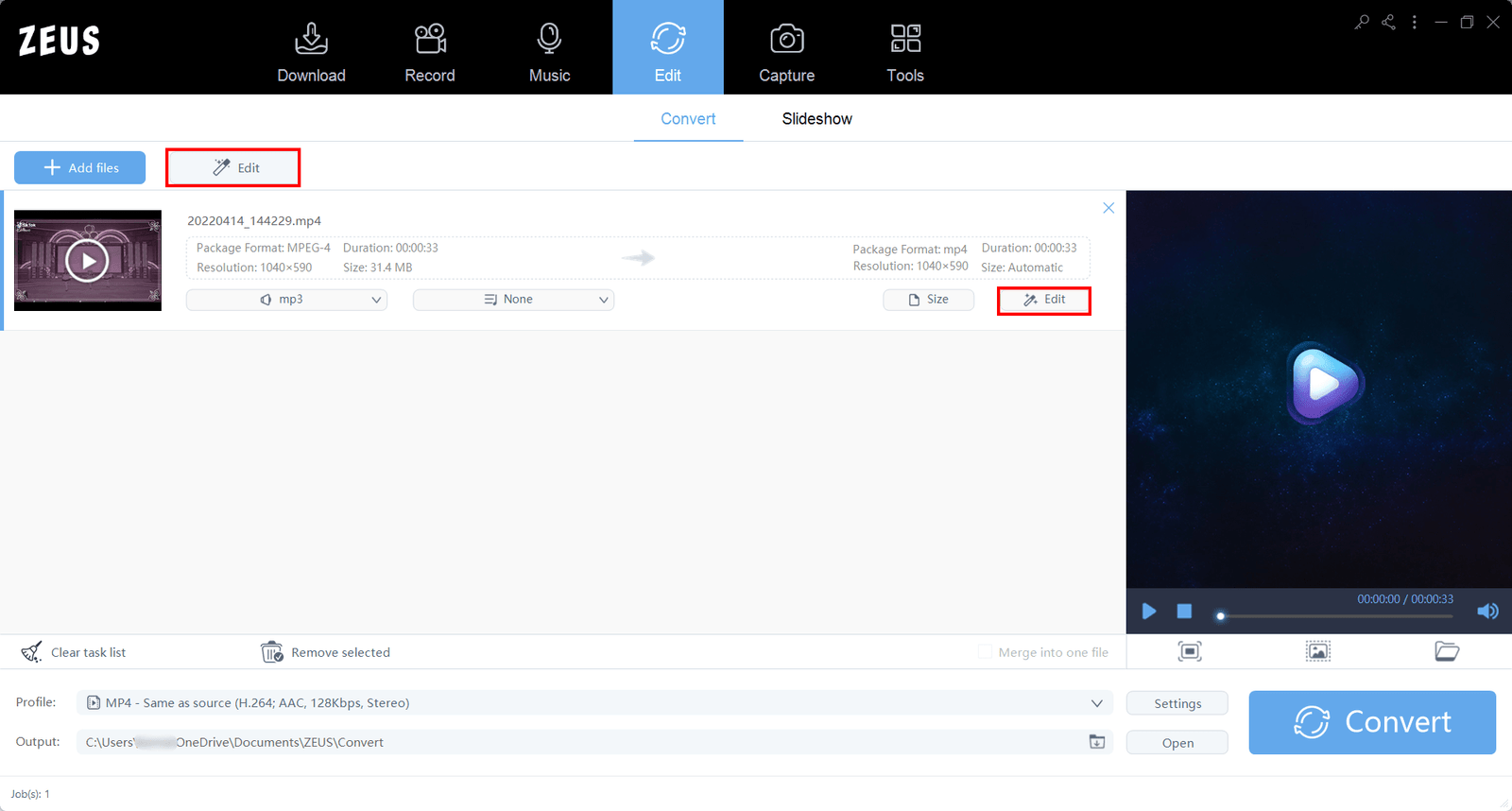 Once in the video editor window of your software, click on "Adjust" then "Crop" to show options for cropping the video. Adjust the cropper tool by dragging the border around the video to remove the watermarks showing on the top left and bottom left of the video. Click "OK" once done.

Step 4: Start Converting!
Click "Convert" to finish editing and save the TikTok video without the watermark.
Note: Click on "Play" to view the cropped video free from the watermarks.
Once clicked, the converting is in progress. Wait for it to finish converting.
Step 5: Finish Converting
Once you're done converting, a window will pop up. Click "OK" to open the folder of the video.
Note: The output location of the edited video would is set to default. In this case: C:\Users\\OneDrive\Documents\ZEUS\Convert
Conclusion
Since most social media sites are banned in China, TikTok has become well-known around the world as a service that is meant to be a social media alternative. The majority of us were drawn in by its short video material and the hilarity that ensued from its members. It occurs to us that people would be interested in being able to download TikTok videos for personal use or learning from useful life hacks in the future. Although these videos have watermarks in them to credit the original poster, making them undesirable for some people to download them with the watermark.
To save TikTok without watermark 2022, video downloaders and screen recorders have become useful. ZEUS RECORD and ZEUS EDIT is the safest and most recommended way you can save TikTok videos without the annoying watermarks.