Effective Alternative to Download Tubi Videos (2022)

Looking for a Netflix alternative website where you can watch anime in HD quality? Then, Go for TubiTV. It is a website that can compete with Netflix and Hulu. What's great about this website is that it doesn't require a subscription because it allows public access to its content for free. Here in Tubi TV, you can certainly find all on-demand movies, TV shows, and anime videos.
This anime site has a nice interface which makes it easy to use and navigate. It features a myriad of contents that feature different categories. One of the great sections is "Leaving Soon" where it displays all the videos that will be deleted soon so that users would feel an urgency to watch them beforehand. This site is accompanied with Ads since it is a free website Therefore it is expected to see lots of annoying ads interrupting your streaming. The best option to resolve this issue is to use an alternative to download Tubi videos.
Download ZEUS RECORD now by clicking the button below and save your favorite anime videos now.
ZEUS RECORD is a great downloader alternative that you can use and will teach you how to download tubi videos. It offers an advanced feature that can record anime videos from Tubi without any hassle. With just a few clicks you can effectively save the video to your local drive.
Effective Steps to Record Tubi Videos
Step 1: Set the recording area
To record the video, just click the "Record" menu and select the recording area by clicking the "Record dropdown" button. Using the ZEUS RECORD, you can choose from the available recording area options such as Fullscreen, Region, or Audio only. Once the recording area is selected, a countdown will appear indicating that the recording will start.
In this example, we will use the recording area by Region.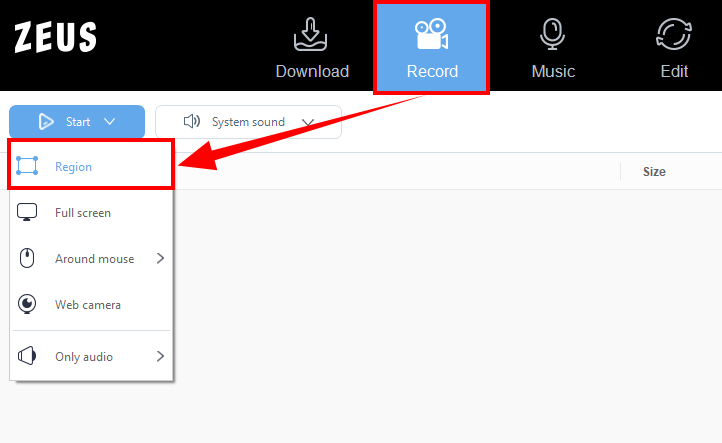 Step 2: Start recording your anime
After the countdown, a small box of recording options will pop up. Click pause or stop if necessary.
Step 3: Open the recorded Anime Episode
Once the recording is done, the recorded file will automatically be added to your record list. Right-click the video to see more options available such as Play, Remove selected, Clear task list, Rename or Open the folder. Select "Open the folder" to check and open the file.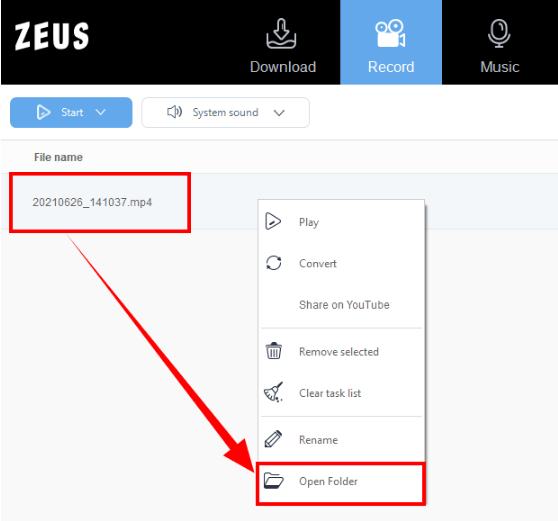 Conclusion
Though Tubi doesn't require you to sign in, there are benefits that you can enjoy as a member like the queue building of content to watch. Though some of the contents are a bit outdated, it doesn't affect the quality of the videos. To get a better streaming experience, you can also choose to download Tubi videos using an alternative tool.
ZEUS RECORD is a highly recommended alternative solution that you can use on how to download videos from Tubi. It can also save videos from 1000+ different anime websites aside from Tubi TV. Moreover, it has features that can help you record music, take a screenshot and download videos.