Get Around with AnimeDao Download | Quick Help (2022)
Animedao is one of the anime lover's favorite websites. It is very user-friendly and keeps their anime videos updated. With a clean interface and easy navigations, this website will surely be a plus! Though the site is safe, be mindful that it is not legal. They put disclaimers on their site that the videos are from the rightful owner. Even though that's the case, it is still the best destination to dig into the anime world.
This website offers english dubbed contents available for online streaming. However, it is not possible to download videos offline since the site doesn't offer a download option for that. It is reasonable that there are times when you want to watch anime videos offline especially during power outages or lost internet connection. Watching anime may also be one of your ways to kill boredom. So, to get around AnimeDao download you will need a reliable tool that can do that.
Download ZEUS RECORD now by clicking the button below and save your favorite anime videos now.
ZEUS RECORD is a powerful tool that will help you save anime videos through its advanced features. Downloading and recording anime videos are way easier now. Moreover, you can record up to 4K quality output and in your desired video format.
Easy GetAround with AnimeDao Download
Step 1: Set the recording area
To record the video, just click the "Record" menu and select the recording area by clicking the "Record dropdown" button. Using the ZEUS RECORD, you can choose from the available recording area options such as Fullscreen, Region, or Audio only. Once the recording area is selected, a countdown will appear indicating that the recording will start.
In this example, we will use the recording area "Full screen".
Step 2: Start recording the your anime
After the countdown, a small box of recording options will pop up. Click pause or stop if necessary.
Step 3: Open the recorded anime episode
Once the recording is done, the recorded file will automatically be added to your record list. Right-click the video to see more options available such as Play, Remove selected, Clear task list, Rename or Open the folder. Select "Open the folder" to check and open the file.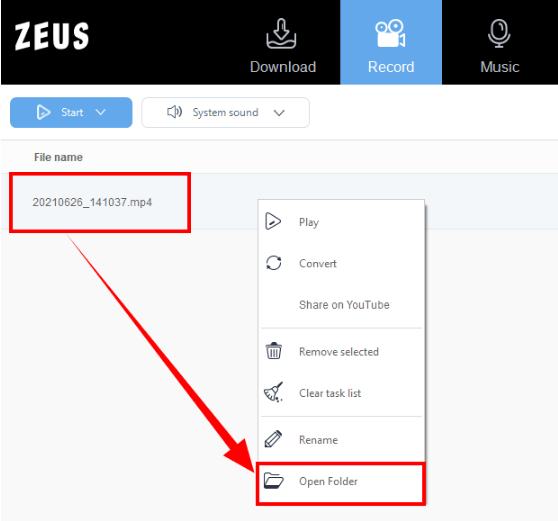 Conclusion
AnimeDao is a great website that offers HD quality videos. All the anime are updated and it features the most popular anime video recommendations. The site is free, neat, and easy to navigate on each page. Well, you can also download AnimeDao movies and shows for easy offline playback.
ZEUS RECORD is a powerful tool that can help you save anime videos in a hassle-free way. Thus, it is a very affordable tool that offers different features aside from recording videos. It can also download using the "Copy and Paste" method, record music, take a screenshot, and many more! At a very affordable price, you can now use one tool for different activities.