Best Alternative for 123Anime Safe Download for Windows PC (2022)

123Anime has a comprehensive list of anime videos available for free streaming. It contains both Japanese and Chinese anime with English subbed and dubbed versions. A long list of genres is also available for your selections from Action to Thriller from oldest to newest releases. Although 123Anime has a download feature, the non-stop debates about safe and legal streaming and downloading are still a hot issue. As a user, you have to be responsible for your streaming. Therefore, for a 123Anime safe download, it is best to do screen recording and save the anime videos on your Windows PC for offline streaming.
Download ZEUS RECORD now by clicking the button below and enjoy streaming!
You don't have to worry anymore because you will always be safe with ZEUS RECORD. Its multimedia software is packed with plenty of great features including its screen recording tool. If you are not a tech-savvy person, this software is your best friend. The software's user interface is easy to understand and easy to use. With just a few steps, you can have it all ready for your offline streaming.
Quick Steps on How to Record 123Anime Videos
Step 1: Set the recording area
To record the video, just click the "Record" menu and select the recording area by clicking the "Record dropdown" button. Using the ZEUS RECORD you can choose from the available recording area options such as Fullscreen, Region, or Audio only. Once the recording area is selected, a countdown will appear indicating that the recording will start.
In this example, we will use the recording area by Region.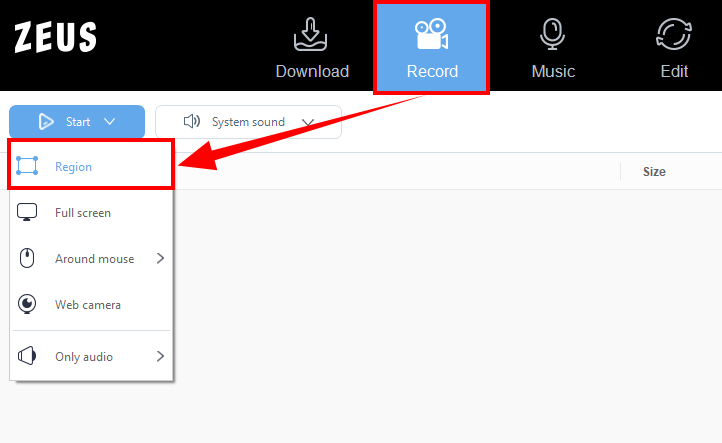 Step 2: Start recording the anime video
After the countdown, a small box of recording options will pop up. Click pause or stop if necessary.
Step 3: Open the recorded anime movie
Once the recording is done, the recorded file will automatically be added to your record list. Right-click the video to see more options available such as Play, Remove selected, Clear task list, Rename or Open the folder. Select "Open the folder" to check and open the file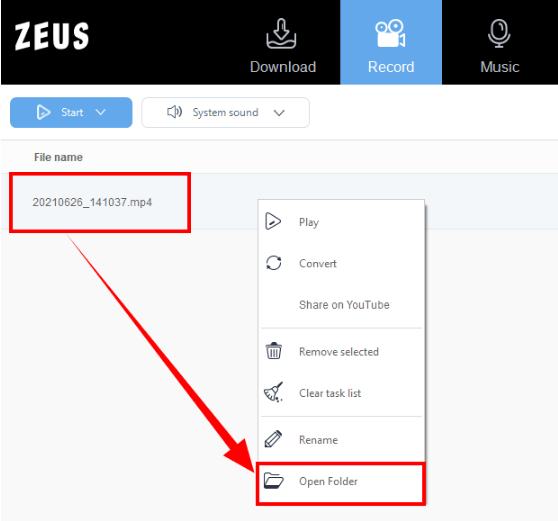 Conclusion
It's positive, everyone will agree that 123Anime has the cleanest and most organized web layout among all anime sites. Instead of showing thumbnails of videos, this anime site prefers to be more direct. As soon as you open the website, you will be redirected to its powerful search engine tool to specifically find the anime videos you want to stream. This is perfect if you don't have time to scroll over different videos. If you are not sure what to stream, you may click the "Trending Anime/Movies" button to see the popular and new releases anime. You will surely get a great user streaming experience here. But for offline streaming, it is strongly recommended to do screen recording for a 123Anime safe download and stream offline on your Windows PC.
ZEUS RECORD totally has it all! Whatever multimedia solutions you need, this software definitely has something to offer. This includes a screen recorder tool that allows you to record anime videos from 123Anime. You may also try exploring its other features such as Music download, ID3 Tags, Speech Recording, and more.