Most Comprehensive Music Library Download Tool in 2022
Everyone wants to listen to their favorite song in a relaxing environment with no interruptions at a time that is convenient for them. We may feel calmer and less weary in our everyday routines. Having our own music library sounds beneficial. The music library is useful for categorizing and organizing our music by genre, artist, and even album so that you can easily track what you want to listen to. It makes everything easier as it will allow users to search and download music instantly.
If you've never heard of music library software, you're in luck because we will introduce you to the most comprehensive music library download tool for instant downloading and streaming. Trying out most software online, one tool that stands out the most is ZEUS MUSIC.
Check out the ZEUS music library now!
Using its free trial version, you can easily download and record one song for 3 minutes. Subscribing to the full is needed to continue using it.
ZEUS MUSIC is a one-stop-shop for all multimedia solutions. It is built with a huge music library archive from all around the world. Any kind of music you are looking for, there is no doubt that you can find it here. Another great function it has is its play and download options. Through this, you can browse, play, and download with one click.
How to Search and Download Music on ZEUS Music Library
Step 1: Launch Software
Navigate to ZEUS and click the "Music" icon. Then, click the "Search" button to look for your desired music to download.
Step 2: Search Music to Download
Use the search engine of the software and look for your music. Then, click the "Magnifying Glass" icon to search for your music. The search result will then display on your screen.
Step 3: Download the Desired Music
At the right portion of the song, click the "Arrow" button to instantly download your music
Then click the "Downloading" button under the "Download" section to see your file.
Step 4: Enjoy Listening to Downloaded Music
Click the "Completed" tab to see your downloaded music. Double-click to listen and enjoy the song. You may also right-click for more options available.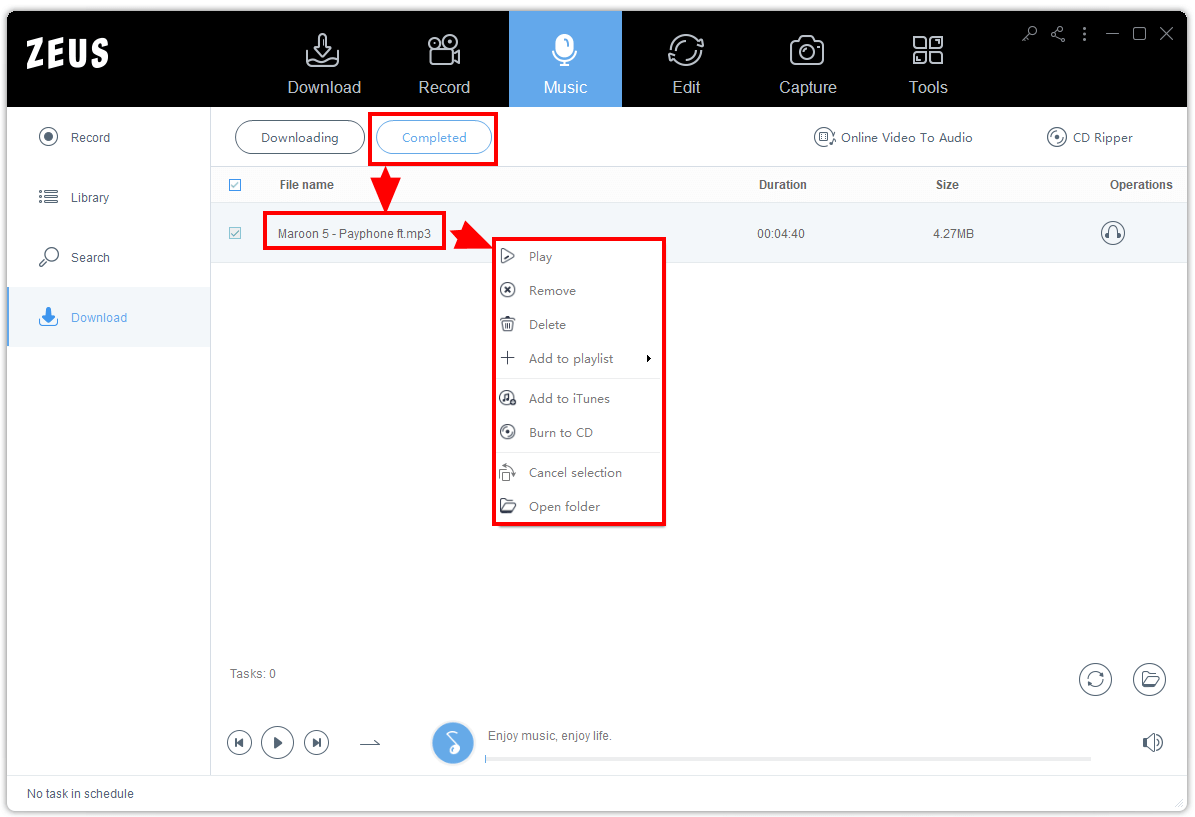 Conclusion
Music is the one that connects to people. Listening to music you can relate to will deeply touch your heart. That is the reason why music enthusiasts want to have a music library and do the music library download without haste.
Use the ZEUS MUSIC software to help you save and make the library playlists you want. Using the one-of-a-kind function of this tool, you may download your favorite music and compile them in your list. Once also you purchase this software, you will be granted a lifetime license.