Q: I can't download from URL with ZEUS DOWNLOAD
When downloading a video/audio on ZEUS, you may encounter to see this red alert icon (refer to the image below).
This alert is displayed when a downloadable video cannot be detected from the pasted URL. If you see this alert, try some video URLs from popular sites such as Youtube.
If you can download from popular sites, then the problem might be the URL pasted to download. To resolve this, please try the following.
・ Try downloading again with the URL where the target video is displayed and playable.
・ Use the built-in browser.
・Use the external detector.
Hence, if all the video URLs of popular sites also fail, then the settings of the file destination folder may be wrong.
Follow the steps below on how to change and correct the file destination folder.
1. Run the product software.
2. Click the menu button on the upper right of the product screen and select "Settings" to open the setting screen.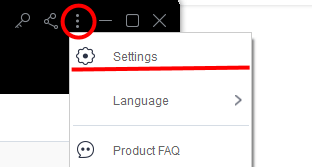 3. Select "Download" on the left side of the setting screen and check the output folder settings.
In the example below, only the folder name is specified , such as "DOWNLOAD" , which is incorrect.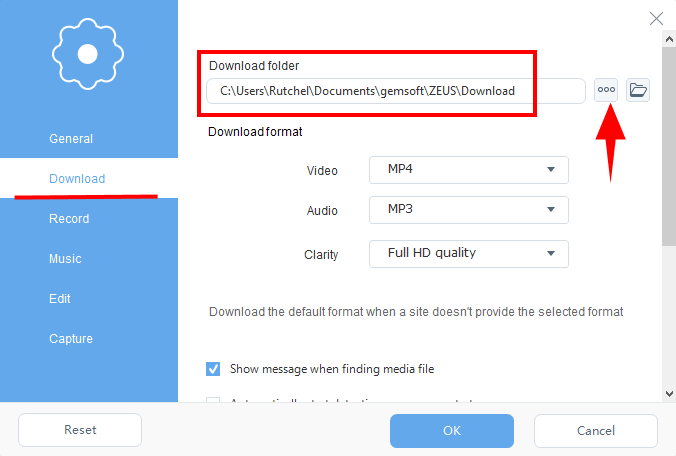 Click the "…" button to the right of the output folder name to open the folder selection screen. Select the folder you want to save and click the OK button. After changing the settings, click "OK" to close the settings screen.
4. After changing the settings, check the download again. Re-paste the URL that could not be downloaded, or if there are any "tasks" that could not be downloaded in the list, select them and click the "Resume Download" button (refer to the red circle in the image below).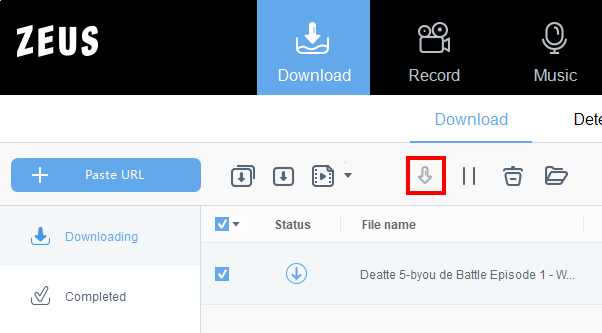 If the alert display disappears and the progress bar grows light blue, the download is complete. If the issue is still not resolved it may be improved by completely uninstalling or reinstalling the product. Please refer to the following.